Cabela's store draws thousands
Angling for a look at the new Cabela's store, more than 140,000 visitors packed the business in its first four days.
"I feel fantastic about that," said John Castillo, assistant manager, "We're just so happy to finally be able to open the doors and we're glad that the folks in the area received us so well."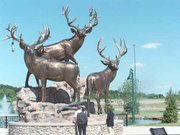 The hunting and fishing outfitting store, which is located 15 miles east of Tonganoxie, saw 35,000 visitors on Thursday, its opening day. And the stream of visitors continued so much so that when the parking lot filled, shoppers parked at the nearby Kansas Speedway and rode shuttle buses to the store.
And once they arrived, they found not only shopping, but plenty of wildlife exhibits also. There's a 55,000-gallon aquarium stocked with fish native to the area, an African diorama complete with elephants, rhinoceros, cape buffalo, lion and leopard, a 36-foot tall mountain with wild game trophies and a running stream and a trophy mule deer museum.
At Wednesday's ribbon cutting ceremony, Carol Marinovich, mayor of the Unified Government of Wyandotte County/Kansas City, Kansas, compared Cabela's to "the Nordstrom of sporting goods."
"We're so proud to have Cabela's here in our own community," Marinovich said. "I can't imagine anyone walking in this store and not feeling so proud that it's in their hometown."
The opening of Cabela's, next summer's opening of Nebraska Furniture Mart and the future opening of Great Wolf Lodge, along with the Kansas Speedway, which opened in 2001, have turned western Wyandotte County into a destination point, she said.
"We wanted retail in Wyandotte County and Kansas City, Kansas, and we wanted a place where we can go, shop and be entertained," Marinovich said.
Congressman Dennis Moore thanked Cabela's for locating in Wyandotte County.
"What I see is an amazing employment opportunity, an amazing shopping opportunity and a great tourist attraction," Moore said.
"It's a major shot in the arm for the economy," he added.
Kansas Lt. Gov. Gary Sherrer said the tourism district's boost to the economy would be sizable.
"It's going to bring money into the state and Lord knows we need that right now," Sherrer said.
Kansas Governor Bill Graves said that for many years the state had missed out on the opportunity to invest in and be a part of Wyandotte County.
Graves presented to Cabela's a Kansas flag that had been flown over the statehouse in honor of the new store.
Ron Soucie, manager, noted that more than 42 percent of the store's employees live in Wyandotte County.
"The crown jewel of all the Cabela's is their people," Soucie said. "I have never met one Cabela's employee that wasn't authentically happy to be here."