THS

athletes survive summer with new conditioning program
Boot camp it wasn't, but Tonganoxie High School student-athletes found their summer conditioning programs to be a bit more demanding this year.
Using a new training program, THS coaches implemented new lifts and agilities to their summer regimen.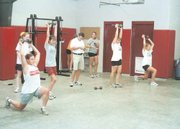 "We do a lot of things that are different from most weight lifting classes," said Brandon Parker, athletics director and assistant volleyball coach.
"Instead of a bench lift, we see how we lift our own weight."
Tonganoxie derived its programs from Rob Cross, strength and conditioning coach at Mid-America Nazarene in Olathe.
Along with coaching at MANU, Cross also worked with athletes at the 1996 Olympics in Atlanta.
Matt Bond, assistant football coach, said the school's new program focuses on keeping the heart rate up and using explosive-type movements.
"We go for an hour to an hour and 10 minutes," Bond said. "There's not a lot of standing around."
Bond has already noticed a difference in practice, especially in flexibility and players' stances.
Other coaches involved with the program were football coaches Mark Elston and David St. Cyr, volleyball coaches Tiffany and Brandon Parker and LeAnn Bond, boys basketball coach David Walker and girls basketball coach Randy Kraft.
With practice already started Monday for fall teams, the summer conditioning proved to be a good introduction for some athletes.
"I think it's helped my vertical," said Kelly Breuer, a junior on the volleyball team.
Tiffany Parker has noticed other improvements also.
"We have got a lot of girls who have set a lot of standards," Tiffany said. "Those who haven't been running are going to be hurting.
The conditioning ran three days per week and began in late May. The volleyball team finished its workouts last week and averaged about 15 girls per session, with 22 players its peak.
The teams, for the most part, still did core lifts, but added lunges, power cleans and the snatch lift. The power clean involves taking the barbell from the ground to one's chest in the upright position. The snatch lift is similar, but it includes bringing the bar above the head after jumping during the rotation from the floor above one's head.
The additions have been good, Bond said. Now in his fifth year at Tonganoxie, he's seen how summer conditioning has evolved.
"It's definitely a far cry from where we've been four years ago," Bond said. "We didn't' have a conditioning program for the offseason.
"We're coming along slowly but surely."