Drought increase demand for hay
Round bales of Leavenworth County hay are rolling this year all the way out to western Kansas and beyond.
Mike Beam, senior vice president of Kansas Livestock Association, said, "All you have to do is look at I-70 and there's truck after truck moving west. I would guess a lot of it is going to Colorado."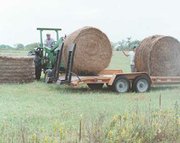 Jim Owens, who cuts hay with Jerry Willburn in Leaven-worth County, said they've had more calls than usual.
"Everybody's been wanting hay everywhere from Kansas to Montana to Wyoming," Owens said. "We've had people call from Colorado wanting one to six semi-loads."
Brome hay has been selling for up to $70 a ton, Owens said, compared to last year's price of about $40 a ton. Plus, truckers charge about $2.25 a mile to haul the loads of hay.
It's a price ranchers who operate in dry areas must meet to feed their animals, in part because this year there has been so little grass on grazing land.
"In the extreme western fourth of the state there has hardly been any growth at all to graze this summer," Beam said.
Another food source, crop residue, is also in short supply because of the drought. To help, the government opened Kansas conservation reserve program land for grazing and haying.
"This is the first time I can ever remember opening CRP up on a statewide basis," Beam said. "Historically it's been opened up in just the counties that documented the drought conditions."
Gary Rader, district conservationist with Natural Resources Conservation Service, said the 7,000 acres of CRP ground in Leavenworth County aren't worth haying right now.
"Most of the quality is gone," Rader said.
Also, he said, in CRP fields that haven't been mowed or burned in several years there is too much dead plant material to make good hay.
Landowners can hay up to 50 percent of their CRP acreage, and graze up to 75 percent. In return, they forfeit 25 percent of the annual CRP payment, which in Leavenworth County averages $64 an acre, on the acres that they hay or graze.
The original Aug. 31 cutoff date on haying or grazing CRP has been extended to Nov. 30.