Solo flight first for bird
It's not every day that a runaway Romeo returns to his nest.
But Vi Lux, owner of two parakeets Romeo and Juliet said that's what happened.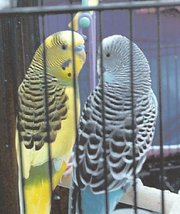 The Luxes had taken in the feathered friends into their home last winter after Nancy Norris took the birds to the Good Samaritan Thrift Shop, saying she and her husband, Bob, had acquired a cockatiel and they wanted to find a new home for their parakeets.
Lux, who volunteers at the thrift shop, said she'd take them. She and her husband, Bill, grew fond of the birds. They enjoyed listening to the birds murmur to one another, watching the birds preen one another's feathers, and at bedtime, seeing them tuck their beaks into their shoulders, puff up their feathers and go to sleep.
In her spare time, Vi, who is a fan of Jayhawk basketball, tried to teach the birds to say "KU."
She hoped Romeo would be saying "KU" by the time basketball season rolled around this fall. But the bird had a more adventurous goal in mind. In late May, when Lux took the cage outside and opened the door to clean it, Romeo made his escape. Vi watched in surprise as the blue parakeet disappeared into summer's green leaves.
"We looked all over," Lux said. "He went straight to the big maple tree and I never did see him any more."
One might think the story would have ended there. But Lisa Bray, a friend of Nancy Norris', last week had a fence installed in her yard north of Sonic, about a mile north of the Luxes' home.
"The guy who was doing the work saw a bird and said 'That looks like a parakeet,'" Bray said. "It was."
Thinking the bird must belong to a neighbor, Bray and her son, Christopher Clark, 15, decided to catch the bird and return him to his home.
"We chased him for a good 30 minutes," Bray said.
At one point Christopher had the bird in his hands, but only briefly, until beak and flesh met. Then he removed his shirt and finally was able to land the shirt over the bird. He helped his mother shut up the bird in a dog carrier.
Knowing Norris had kept birds, Bray called her to see if she had a cage she could use.
When Norris learned the bird was a blue parakeet, she knew it must the one that she had given to Vi Lux.
Norris, who knew the birds as Foghorn and Lemondrop, identified "Foggy" as soon as she saw him.
She contacted Vi, who immediately agreed to take the wandering Romeo back. And from all appearances, Juliet also quickly forgave him for his absence.
"When we put him in the cage they just talked up a storm to each other," Bill Lux said. "And yesterday I was in there and they were kissing each other."
Vi said she enjoyed watching Romeo settle back into his cage:
"He was glad to be home, I guess."