Gas break causes traffic to be rerouted
A gas line broke Thursday morning at the construction site near the intersection of U.S. Highway 24-40 and Kansas Highway 16.
According to Mark McIntire, who drives a loader for Meadows Construction, at about 8 a.m., an excavator cut into a gas line while digging a storm sewer.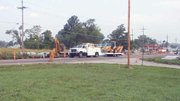 Immediately following the incident, the construction crew blocked the road and emergency personnel began directing traffic through Tonganoxie.
As Tonganoxie firefighters watched, employees from Kansas Gas Service arrived at about 8:30 a.m. and began repairing the lines. By 10 a.m. the work was complete and the roads were open.
Tammie George, assistant principal at Tonganoxie Elementary School, said emergency workers contacted the school where about 760 children were in classes.
"They checked the gas lines around the building to make sure everything was safe," George said.
George said when she first went outside, there was a smell of gas in the air, which she attributed to a breeze blowing it from the highway location.
McIntire said when the gas line was struck workers simply heard the sound of gas hissing out of the pipe.
"We didn't panic too much," McIntire said. "We just called the gas company."