Building on a strong foundation
It's been two years since Jeremy Goebel last put on a Nebraska-Kearney singlet.
The former wrestler still wears some UNK garb, but much more Chieftain red now hangs in his closet.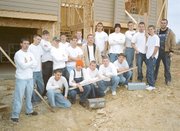 Goebel, 24, will lead Tonganoxie wrestlers into their first tournament Saturday in Atchison. The dual-formatted tourney will be Goebel's first as a head coach. He was an assistant at Class 4A Wellington last season.
"Here it's my own program," Goebel said. "It's improved year by year, and it's only going to get better, hopefully."
The UNK graduate replaces Bill DeWitt, who lived in Eudora and who took the Eudora coaching position to be closer to his family.
Goebel, a physical education teacher at Tonganoxie Elementary School, is a North Platte, Neb., native and served his student teaching duties in Wellington.
The former wrestler ended up in Kansas because a college teammate, Troy Keiswetter, coaches the Crusaders. While at WHS, Goebel was an assistant. He helped coach Josh Clark, the 4A state champion in the 152-pound division.
While at Nebraska-Kearney, Goebel wrestled in the 118, 125, 133 and 141 divisions. A four-year letterman and academic all-American, Goebel helped the Lopers to the NCAA Division II regional championships his junior year.
After finishing his career there, he helped with wrestling camps at the college and was a graduate assistant last year when the team took eighth in at the NCAA championships.
Now as a full-time coach, Goebel plans to assemble a similar tradition at THS.
Tonganoxie has qualified a handful of wrestlers each year under DeWitt and has become one of the stronger teams in the area. Goebel wants to build on that.
"I'm just trying to bring this program to a tradition that we can excel and get more numbers out," Goebel said. "And more people in the community excited about wrestling," Goebel said.
The Chieftains return a bulk of last year's team that went 12-3 in dual matches, took second in four tournaments and won the Onaga Classic. Ross Starcher, who set a school record for wins with 32, returns as a sophomore. He joins James Hartshorn (31-9) and Andy Koontz (20-8) as returning state qualifiers. Pat Weyer, who went 21-17, is the only state qualifier lost to graduation. Overall, Tonganoxie returns six wrestlers with 20 or more wins. THS has three seniors on this year's squad: Hartshorn, Andrew Miller (21-15) and Chuck Riddle (4-3). Other top returners include Matt Weyer (24-13) and Hunter Samuels (9-3).
"Our motto is building a tradition," Goebel said. "But hopefully they're the ones who start the thing."
Tonganoxie will have a dramatically different schedule this year. A dual in Chapman and tournaments in Holton and Sabetha highlight the new schedule. Seeing new opponents, Goebel said, would be a plus.
"I think it's good seeing someone new every once in a while," Goebel said. "A lot of the teams in this area compete frequently."
In building his own program, Goebel would like to start some community activities. Some of his ideas include team posters, a weekly booster luncheon and a takedown fund-raiser.
But come Saturday, he'll be concerned about wrestling.
"Hopefully from a coach's standpoint we can sneak up on people," Goebel said. "Kids are working hard and putting in the time."