'

Hero Cat'
Feline credited with alerting family of fire
It was another rough Thanksgiving for Jerry and Tina Coleman and their daughters, Rachel, 13, and Hannah 11.
A year ago, Jerry's father died two days before Thanksgiving. This year, their home at 810 Pleasant caught on fire two days before Thanksgiving.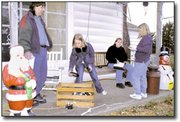 But thankfully, everyone made it out safely.
The family credits an unusual hero for their safe exit ? KC, an 18-year-old calico cat that awakened Rachel.
Rachel got up to put the cat in the hallway, and smelled smoke.
"It smelled like burned marshmallows," she said.
Realizing the house was on fire, she woke her sister and parents, who called for help.
Friday morning as he videotaped the family's charred belongings in the front yard, Jerry said he was impressed with the Tonganoxie Fire Department.
"No sooner had we hung up the phone from dialing 911, they were here," Coleman said. "They said they'd just gotten in from another run, but still, that was fast."
Jerry said the fire started in an extension cord plugged into an electric space heater.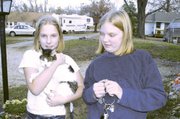 "The extension cord got hot," Tina said. "When the heater kicked on it caused flames to shoot through the cord."
The door to the family room was closed, which Jerry said slowed the spread of the fire. It also helped, he said, that at one time the family room was a garage and has a thick wall separating it from the rest of the house.
The Colemans, who said their insurance company would restore the house for them, hope to be back in their home by Christmas. Through the Thanksgiving holiday weekend they took inventory to see what was left of their possessions. Tina didn't mind so much that much of her vinyl record collection was destroyed ? what bothered her was to see an end table that had belonged to her grandmother ? one-fourth of the top was nothing but a hole with charred edges. Most of the items in the family room, where the fire started, were destroyed. The rest of the house received heavy smoke damage.
The Colemans said the Salvation Army helped them out by providing money for the family to shop for clothes. On Friday, Rachel and Hannah sported new outfits, including identical fur-collared denim jackets.
Tonganoxie firefighter John Callaghan said the fire caused an estimated $30,000 in damage. Fifteen firefighters from Tonganoxie City Fire Department, along with four from Tonganoxie Township and six from Stranger Township responded to fight the blaze.
The Colemans, who said their family room had been built without a connection to the furnace, said heating ducts would be added during this month's work.
"We're not going to use space heaters again," Tina said.
As for the cat, KC made it out with the girls. The family's other two cats were found safe inside the house later that day. The girls said they have a new name for KC: "Hero Cat."