Tonganoxie florist Susan Quisenberry is taking her holiday decorations on the road.
Quisenberry, owner of Village Floral, is decorating two rooms in Leavenworth's Carroll Mansion for Sunday's Candlelight Homes Tour. Helping her with the decorations are Rachel Murry and the rest of the employees at Village Floral.
¢ Advance tickets may be purchased for $10 at six Leavenworth locations, including the museum at 1128 Fifth Ave.
¢ Tickets at the door are $12.50 and will be available at the Carroll Mansion and at the North Welcome Center, which is at Kansas Highway 7 and Cheyenne Street.
¢ For more information, call the museum at (913) 682-7759, or visit its Website: http://leavenworth-net.com/lchs.
The fund-raiser for the Leavenworth County Historical Society, set for 1 p.m. to 8 p.m. Sunday, features tours of six private homes, as well as a Leavenworth church, Sacred Heart, and the Carroll Mansion, which is a museum.
Quisenberry is in charge of the museum's entry room and library. The entry room includes a massive staircase, which is now decorated with garlands, berries and iced silk roses.
In the library, Quisenberry erected an upside-down Christmas tree, which she said goes well with the room's 14-foot ceilings.
"It's a beautiful room," she said, "With absolutely gorgeous walnut woodwork in it, tall windows with stained glass and shutters and built-in bookcases."
Rebecca Phipps, the museum's curator, said she's expecting a crowd on Sunday.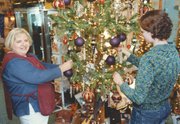 "Last year's home tour brought about 800 guests," Phipps said.
The original part of the 16-room home, she said, was built in 1857. The last addition was completed in 1882. Since 1964, the home has been a museum. About 5,500 people tour the house each year. This is the 11th year for the holiday home tour, which is the museum's largest fund-raiser. Phipps said in 2001 the tour generated about $16,000.