THS

girls team 'a work in progress'
Teams have to say farewell to senior classes every year. As one group heads off, another one is ushered in.
But last year's Tonganoxie High girls basketball team waved goodbye to five seniors and they started throughout much of the season.
Last year's record: 7-14
Postseason finish: Lost in substate first round
Key returners: Jennifer Reischman, Laura Korb, Katie Jeannin, Kelly Breuer, Addie Heim
Coach: Randy Kraft
Year: First at Tonganoxie
Alma maters, years: Gridley, 1973; Kansas State, 1977
The Chieftains finished 7-14 with five seniors: Aimee Eisman, Keri Walker, Erin Seymour, Andrea Korb and Alicia Stauch.
Now first-year Tonganoxie coach Randy Kraft must look for other players to lead the team.
"That's still work in progress," Kraft said. "It's coming around. A few kids are stepping up.
"None of them are used to being in that role. At this point they look around for someone."
Being seniors, Jennifer Reischman and Laura Korb would be the team's natural leaders. Reischman switches gears from a senior-heavy volleyball team that finished 25-12 this fall. Korb, meanwhile, has been Tonganoxie's top cross country runner for much of her career. She also finished 20th at the Class 4A cross country meet last month in Wamego.
Now, however, it's basketball season, and Reischman and Korb are two-thirds of the senior class. Exchange student Johanna Romero is the only other senior.
Despite the lack of seniors, the team does return some experience from last season. Juniors Kelly Breuer, Katie Jeannin and sophomore Addie Heim all had their share of playing time.
New faces will appear when the Chieftains play Thursday both on the court and the sideline. Kraft will enter his 17th year as a head coach. He spent 16 years at Colony-Crest after serving as an assistant boys oach for eight years at the school. Kraft arrived in Tonganoxie to teach agricultural education at THS, but now has another familiar duty.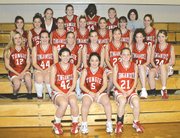 "New coach, new system," Kraft said. "Everyone has a fresh start."
For Kraft's inaugural game, he and the Chieftains will take on host-school Atchison in a preseason tournament. Tip-off for that game is 6 p.m. Thursday in the pool-play tournament that concludes Saturday.
Tonganoxie will likely play man defense most of the time, Kraft said. He wants his team to be a solid half-court team with the occasional full-court pressure.
Offensively, Kraft wants to push the ball, but in the early going, his team's defense is ahead of its offense. That doesn't bother Kraft too much.
"Like I told the kids in practice, defense may not win games, but I guarantee a lack of it will lose games," he said.
After the Chieftains finish up in Atchison, they'll have some time on the tube. Tonganoxie's game against Immaculata on Tuesday will be televised on Sunflower Broadband's Channel 6.
"There's a new coach in here, three tournament games, no starter returning and you throw in a TV game on the next Tuesday," Kraft said. "What more could a guy ask for?"