Tonganoxie High School vocal music students carried off their first Madrigal Dinner performances on Friday and Saturday nights.
The event combined a cappella music by the Chieftain Singers and the THS concert choir with a four-course 15th- century dinner. A packed house enjoyed the 2 1/2-hour program both nights.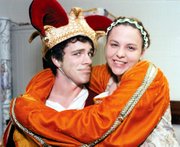 Carolyn Day, accompanist for Joyce Steeby's vocal music classes, said many people worked together to make the event possible. For instance, junior high student Aimee Ostermeyer made three of th e royal court banners, parents worked together sewing costumes, and other costumes were borrowed from Kansas City Kansas Community College and Sumner Academy. In addition, parents prepared the dinner, the menu of which included "veggey soop," "roasta wild e boare," and "breade puddying eek sauca ob plumme."
Dining by candlelight, guests were waited on by servants who sang as beautifully as those who sat at the king's table. Jesters Joel Nido and Michael Stephenson competed for royal attention, employing t heir ingenuity to come up with the most original antics and pranks.
Day said she hopes the school will sponsor the event again next year.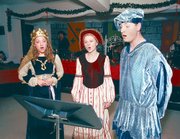 "The kids had never experienced this," Day said. "It has just really been a nice experience and opportunity for th em. There aren't many high schools that attempt to do these. It's usually a college-level undertaking."
Just days after tickets became available, they were sold out. The basement of the Methodist Church seated a total of 86 diners, leaving room for performers.
"We hope this is a new holiday tradition for Tonganoxie," Day said. "This is our gift to Tonganoxie."
The performers
Members of the royal court included King Britain Stites and Queen Ariel Dowdle, Duchess Heather Melchior, Prince Devin Hughey, Earl Adam Hamby, Marchioness Erin Holton, Countess Jessica Walters, Duke Justin Palmer, Viscount Nick Dietrich, Princess Courtney Hoffhines, Princess Amanda Bixby, Princess Sara Pence, Princess Kaitie Pestock, Princess Heather Young and Princess Elizabeth Eveland.
The performers were rounded out by Jester, Joel Nido; troubadour, Michael Stephenson; pages, Chris Smith and B.T. Fleming; and juggler, Joanna Frevele.
Court musicians were: brass, Tyler Davidson and Chase Nowak; recorders, Laura Graveman and Andy Koontz.
Town crier, Joey Glenn; rose sellers, Nicole Carty and Karoline Mathieu, Lady Mistle toe, Paula Prosser and Lady Lavendar, Katy Phillips. Knights, Joey Glenn and Ashley Elliott, pages, Sarah Larson and Kadee Harris; unicorn, Alisha Mayse; banner bearers, James Torneden and Kent Fleming.
Servers were Heather Atwell, Becky Bagget t, Nicole Carty, Jennifer Craig, Nichole Cox, Morgan Davidson, Ashley Elliott, B.T. Fleming, Kent Fleming, Joanna Frevele, Joey Glenn, Kadee Harris, Tom Heinz, Nicole Jensen, Jessica Kant, Cassie Koontz, Sarah Larson, Stephanie Laurent, Jayme Mathia, Kar oline Mathieu, Alisha Mayse, Jennifer McCutchen, Meghan McIntosh, Janelle Morris, Lacy Phelps, Katy Phillips, Paula Prosser, Chris Smith, Rachel Smith and James Torneden.
Joyce Steeby directed the performance.x