2002: A year in review
Past 12 months marked by growth in city, county
Editor's note: As we begin a new year, it's fitting to take a look back at 2002. Lisa Scheller, news editor at The Mirror, provides this review of last year.
January
Duke Energy, which had planned to construct a $200 million dollar natural-gas fired electrical generating plant at 195th Street and Bauserman Road announced the plans had been put on hold.
Tonganoxie ended 2001 with permits for 76 units of housing issued. In 2000, Tonganoxie issued permits for 99 units of housing.Leavenworth County commissioners negotiated a 15-year lease with Jeffrey Phillips of Citadel Holdings to take over maintenance and operation of the county infirmary in Leavenworth.
Basehor builder John Bonee opened Pebblebrooke, an adult living complex in Basehor.
Longtime Tonganoxie residents Bob and Shirley Kasper announced plans to move to a retirement home in Lawrence. Kasper is a former pastor of Tonganoxie First Congregational Church.
Representatives from the Tonganoxie school district toured two Basehor schools. The Tonganoxie school district was considering the district's future building needs.
The city of Tonganoxie selected a mediator to resolve a dispute in the city fire department.
Tonganoxie city planner Linda Bohnsack announced plans to take a job as a full-time planner for Leavenworth County.
Earth Rising, a not-for-profit Kansas City, Mo., corporation, filed suit against Leavenworth County after the commissioners in October voted to deny renewal of a special-use permit for Camp Gaea, a 168-acre camp 10 miles north of Tonganoxie.
Construction began on a post home for VFW Post 9279. Marie Arnold announced plans to start up a local lady's auxiliary for the VFW.
Families chosen as soil conservation winners were: the daughters of Bill and Wanda Robb, B.A. and Deborah Skeet, John and Ruby Glassley and Calvin and Delores Fields. A windbreak award went to Park and Brenda Colwell.
Tonganoxie High School debaters placed first at four tournaments during the fall semester. And, THS debaters also qualified for nationals.
Tonganoxie schools were struck by illness. The grade school reported 80 students sick at one time.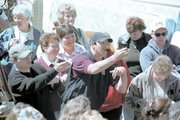 February
Leavenworth County District Judge Frederick Stewart upheld the constitutionality of the county's anti-nude resolution. The ruling came during a hearing for Wayne Eldridge, former county commissioner charged with aiding and abetting public nudity, promoting prostitution and promoting obscenity at a private club he operates north of Basehor.
Leavenworth County and 24 other Kansas counties were declared state disaster areas because of damage from a winter storm.
But according to Tonganoxie Phil's prediction on Groundhog's Day, spring would be just six weeks away. Local physician Philip Stevens makes the annual prediction.
Tonganoxie city council member Janet Angell announced her resignation, necessary because she was moving out of the city limits.
James Payne, Tonganoxie's first full-time paid firefighter, announced he was resigning from the department. Payne planned to take a job with the Ford County Fire and EMS Department, based in Dodge City.
An inmate, Kenneth Gardner, of the Lansing Correctional Facility, said a Leavenworth attorney paid him to lie on the stand during the March 2000 trial of former Basehor Mayor John Pfannenstiel.
The Tonganoxie school board interviewed architects from two firms in hoping to select a firm that would lead the district through a possible bond election and construction of a new school, as well as renovation of existing facilities.
Leavenworth County's 2002 property valuations showed a 9 percent increase from 2001.
Leavenworth County's volunteer firefighters continue to see a growth in the need for their services. More volunteers are needed.
Leavenworth County Undersheriff Dave Zoellner said the number of meth labs discovered in the county dropped from 21 labs in 2000 to nine labs in 2001.
Debra Breuer, who has been with Community National Bank for five years, announced the bank planned to open a Basehor branch in April. Breuer will be manager of the new branch.
Calvin and Susan Quisenberry purchased the former Community National Bank building, at the northwest corner of Fourth and Delaware.
March
Kansas legislators pondered the state's bleak economic projections. The state deficit has grown to about $679 million.
Tonganoxie High School students Colby Craig and Erin Holton won the local VFW Voice of Democracy essay contest.
The city of Tonganoxie considered forming an economic development group.
Leavenworth County Sheriff Herb Nye said he was considering running for a seat on the Leavenworth County Commission. Nye has served as the county's sheriff for 10 years.
Leavenworth County sheriff's officers discovered a meth lab in a rural home west of Basehor.
Himpel Lumber Company began an expansion into the former feed store, just north of the lumber yard. Renovation was in progress.
Because of dry weather, Chuck Magaha, director of Leavenworth County Emergency Management, said landowners needed to take extra precautions when burning fields or tree lines. The area experienced a series of rural fires which claimed several outbuildings and a barn.
Residents celebrated St. Patrick's Day by participating in or watching the annual parade. Chapter AT of PEO held its annual corned beef and cabbage dinner, which was attended by more than 200 diners at the First Congregational Church.
Blustery winds fueled a grass fire that destroyed a home owned by Calvin Dickhaut in the Sarcoxie Lake residential area east of Linwood.
State officers installed 24 members of Tonganoxie's new Ladies Auxiliary of the Veterans of Foreign Wars. The service was held at the Leavenworth County Fairgrounds.
Jeff Boerger, newly appointed president of Kansas Speedway, was preparing for the racetrack's second year.
April
Because of financial problems at the state level, state aid payments to school districts arrived late.
Life Star, an air ambulance service out of Topeka, established a branch at the Lawrence airport. The Lawrence location is staffed from 9 a.m. until 8:30 p.m. daily.
First State Bank and Trust of Tonganoxie announced plans to acquire a family owned bank in Perry.
Diane Wicklund started her new job as the Tonganoxie city planner.
Helen Ihrer was renovating the Hilltop restaurant that burned 18 months ago. The restaurant-bar will be open seven days a week.
Tom Norman finally got to dust off his rain gauge. A farmer who keeps statistics for the National Weather Service, Norman noted that about one-half inch of rain fell on April 7-8.
The Tonganoxie school board voted to hired the DLR Group, Overland Park, on a contingency basis, to lead the school district through planning, a bond election and construction.
Cami Zimmerman was appointed to fill Janet Angell's seat on the city council. Angell resigned because she was moving from the city.
Sacred Heart Catholic Church announced plans to raise funds for a new building. Father Mark Goldasich said so far the church had raised about $500,000.
Increased property valuations brought about an extra $80,000 to the school district's funds.
Leavenworth County District Judge David King approved an agreement between the county and Earth Rising, which means Camp Gaea, a 168-acre spiritual retreat 10 miles north of Tonganoxie, can remain open.
The Almeda Hotel, a century-old hotel and former restaurant and bus stop, would be on the auction block in April.
Sonic Drive-In was looking for a site in Basehor for a new restaurant.
Anna and Darlyn Hansen are new owners of the Almeda Hotel, which sold at an April 27 auction. The Hansens planned to renovate the building, making it much as it was a century ago. And, they plan to turn the original dining room area into a tea room.
May
The Good Shepherd thrift shop celebrated 15 years of service to the Tonganoxie community.
A tree was planted in memory of the late Jean Lenahan, who had been active on the city's tree board. Mrs. Lenahan died Dec. 10, 2001. The Tonganoxie Tree Board planted the tree, a prairie fire crabapple, in VFW Memorial Park.
Jean Lenahan's husband, longtime Tonganoxie businessman John Lenahan, owner of Lenahan's Hardware, was featured in The Mirror.
Leaks in the library's roof forced a temporary closure of the building, said Becky Borella, library director.
A traffic signal at U.S. Highway 24-40 and North Star Drive was slated to be installed later this year.
Tonganoxie Elementary School began a recycling project to raise money to purchase equipment for the school.
Students at Tonganoxie Junior High School performed in a musical, "Once Upon This Island."
Holly Heintzelman and Paige Robinson were named first- and second-place winners in the VFW essay contest.
Caleb Poterbin won the competition for the Government In Action youth tour to Washington, D.C. He would accompany other state winners on the June trip.
Federal Bureau of Investigation agents investigated the May 19 break-in of an ATM machine at Community National Bank in Tonganoxie.
On May 18, 111 Tonganoxie High School seniors received their diplomas during an evening graduation ceremony. Nancy Milleret was valedictorian, and Bryan Gurss was salutatorian.
Former baseball coach John McCaffrey was honored at a benefit baseball game played by his former players. McCaffrey coached summer baseball and T-ball for approximately 40 years. The proceeds from the game went to the summer baseball program.
Tonganoxie Chieftains would send 17 participants to the state track meet in Wichita.
Bill DeWitt, Tonganoxie's wrestling coach for five years, announced that he had accepted a job at Eudora.
The city council appointed Butch Rogers as chief of the city fire department. Rogers replaced Charlie Conrad, who had served as chief for 16 years.
City employees patched and repainted the Tonganoxie swimming pool in preparation for the summer season.
Tonganoxie High School boys track team won its first Kaw Valley League title since 1997.
Sheriff Herb Nye, who had considered running for county commission, announced he had decided not to run against Democrat Don Navinsky.
Members of Tonganoxie's VFW Post 9279 watched as Erik Crain unloaded a Huey helicopter at the VFW Park. The veterans plan to paint the helicopter and put it on display in the park.
An outdoor classroom at Tonganoxie Elementary School was dedicated in the memory of longtime teacher, Liz Cronemeyer.
Fred Leimkuhler, who said it's the spirit of a garden that's important, was featured for his years of work in raising and breeding peonies.
June
The Tonganoxie City Council approved a $2 million upgrade to the city's sewer plant.
Veteran Jim Rogers announced his plan to revive the Tonganoxie American Legion post.
McLouth held its 11th annual barbecue competition. This year, 38 teams vied for the top positions.
Eric Benedict found a novel way to propose to Mindy Bantz. He posted his question on the electronic billboard outside First State Bank where Bantz worked.
The Tonganoxie school board approved a new no-cut policy for high school athletics.
Construction was under way at the intersection of County Road 25 and Evans Road where the roadway was being widened and left turn lanes added.
The annual Tonganoxie Days festivities drew a crowd to its various events, including a 10K run, a barbecue cookoff, quilt show and car show.
The Tonganoxie school board hired Brandon Parker as the high school athletics director. Parker replaced John Lee, who resigned to take a position at another school.
With construction of the nearby Cabela's nearing completion, about 18 employees in management positions had relocated to Tonganoxie. The outdoor outfitters store is about 15 miles east of Tonganoxie.
A new climbing tower and several other playground items were installed at Chieftain Park to complete the children's play area.
Members of the Pilot Knob Radio Group invited the public to join them at their weekend radio rendezvous in VFW Park.
Kaitlyn Saathoff received a special haircut. The 12-year-old Tonganoxie girl decided to donate her 10-inch ponytail to Locks of Love, an organization that provides hairpieces to children who have no hair.
Tonganoxie City Council members voted 4-1 to approve a resolution authorizing salaries for the council and mayor.
Meadows Construction submitted the low bid for the upcoming construction project at the intersection of U.S. Highway 24-40 and Kansas Highway 16. Construction was slated to begin in August.
A groundbreaking was held at the Great Wolf Lodge. The hotel, which includes an indoor water park for guests, will be about 15 miles east of Tonganoxie. First State Bank and Trust of Tonganoxie was one of 27 Kansas banks that loaned part of the money for construction of the hotel.
Wayne Eldridge, owner and operator of Whispers Cabaret, plead no contest to one count of aiding and abetting public nudity, which is a misdemeanor. In exchange for the plea, Leavenworth County prosecutors agreed to drop charges of promoting prostitution and promoting obscenity. Eldridge agreed to pay a $500 fine and all court costs related to his case.
The Basehor branch of Community National Bank celebrated its grand opening.
July
Because of drought conditions, the city asked residents to try to cut down on water usage.
Casey Davis, a 13-year-old Tonganoxie girl who has cystic fibrosis, decided, with the help of her sister, Taylor, 10, and their parents, Donna and Gary Davis, to raffle a steer to help a friend who needs a double lung transplant.
Kelly Vogel opened Crescent Moon Bakery at 512 E. Fourth St.
The annual Leavenworth Area Development business awards went to four Tonganoxie companies: B&J Country Mart for an addition of a pharmacy and larger deli; First State Bank and Trust, for commitment to community service; Midwest Carpet Center, for owner Finney Robbins' decision to purchase a building which houses a health center, chiropractic clinic and physical therapist; and Community National Bank, for its expansion to Basehor.
Basehor, with 53 permits for single-family homes issued by July, led the county in housing permits issued.
Increased property valuations meant the school district would decrease the mill levy by 3 mills.
An old-fashioned band concert, with a band composed of community members directed by Tonganoxie school band instructor Charles Van Middlesworth, was held at VFW Park.
County agricultural conditions were poor because of the drought. About 20,000 acres planted in corn and about 50,000 acres planted in soybeans looked as if they needed a good soaking.
Coping with the drought conditions and a decline in the water level of the city's wells,
the city council approved a resolution banning outdoor watering.
Reno Township firefighters held an open house during which they demonstrated how they extricate victims from automobile accidents.
Ron Joles, who suffered a heart attack while driving his tractor, was fortunate that the tractor struck the side of his neighbors' house. Robert Klinkenberg heard the noise, ran outside, noted that Joles was not breathing, and began administering CPR while his wife, Helen, called 911.
Paula Prosser was crowned the 2002 Kansas Junior Teen by American Coed. Paula is the daughter of Susie and Buz Prosser, Tonganoxie.
Tonganoxie's FCCLA team, composed of Tara Kemp, Melissa Moss, Kerilyn Walker, Andrea Korb, Dani Lohman, Spook Holton and Kelly Breuer, returned home from a national competition with a gold medal.
August
The Reno home of Sue Hawkins was destroyed by fire. Occupants made it out of the home safely.
Gary Carlson, seven-year executive director of Leavenworth Area Development, announced he would be stepping down because of his health.
Area 4-H'ers gathered at the Leavenworth County Fairgrounds to participate in the annual summer pet show. Among the winners was Sneakers, a tiger-striped cat belonging to 16-year-old Jennifer McCue. Jennifer took home a trophy and ribbon for reserve grand champion.
Despite what seems to be an annual rain on the first day of the county fair, the city's watering ban remained in effect. The two-inch soaker came too late for most area corn fields.
Rex Hutton's tae kwon do academy continued to draw new students and the students continued to win trophies in tournaments.
Preliminary counts showed Tonganoxie's public school enrollment to be 41 students higher than the previous year.
Recent showers prompted city officials to move from a total watering ban to an even-odd-day watering cycle for city residents.
Cabela's opened, with an estimated 30,000 visitors a day.
Rockie Mills, former Tonganoxie resident who lives in Winchester, was on the waiting list for a double lung transplant at a St. Louis hospital. A fund to help Mills with her expenses was established at First State Bank and Trust.
Sick buffalo at the rural property of Calvin McDaniel were taken to an Oskaloosa veterinarian for treatment of a parasitic disease. An estimated seven buffalo had already died.
The 2002 average composite ACT scores of Tonganoxie High School climbed to 21.5, up from19.8 in 2001.
Romeo, a high-flying parakeet belonging to Vi and Bill Lux, was returned to the cage after being gone several months. Romeo, who had flown the coop when Vi was cleaning it outside, was found about a mile from home.
Brisk sales of the October issue of Playboy magazine are expected locally. Carey Oroke, a Tonganoxie senior at the University of Kansas, is pictured in the Girls of the Big 12 special section.
September
Tonganoxie Township Fire Department received a new rescue truck.
Various Tonganoxie groups marked the anniversary of Sept. 11, 2001, with prayer vigils. At the downtown Outback Video store, Austin Stone set up a commemorative display in the front window.
Because of the increased enrollment at Tonganoxie Elementary School, the school board decided to add an extra third-grade classroom. The board hired Pam Field as teacher.
Steve Kelly, Overland Park, plans to construct a Shell gasoline station and convenience store at the northwest corner of U.S. Highway 24-40 and Stone Creek Road.
The Tonganoxie Parent Teacher Association has raised more than $12,000 to purchase playground equipment. The school board voted to chip in about $6,000 to complete the project.
The police department held its first drivers' check lane.
Irene Houk readied for the opening of her new gift shop, irene & co. The business is at the intersection of U.S. Highway 24-40 and Third Street.
Bill Grant, general counsel for First State Bank and Trust, was collecting personal hygiene items to send to the People to People group. The items will be distributed in Cuba.
The board of directors of Lawrence Memorial Hospital agreed that LMH officials could negotiate for purchase of land near U.S. Highway 24-40 and Laming Road. The hospital hoped to construct a new clinic at the site.
Basehor-Linwood school board members reached consensus on future building plans. Board members agreed the district will act on a formal resolution to go for a $29.9 million bond issue. And election is set for Jan. 21.
Albert and Eva Bettis prepared for the opening of Kidz Can Be Kidz, a daycare center located at 307 Ridge St.
October
Tonganoxie resident Jim Owens, who won the Green Flag Getaway sweepstakes, sponsored by Mr. Goodcents and O'Reilly Auto Parts, spent the weekend attending Speedway events with his wife, Susan. As a part of his prize, Owens waved the green flag during the O'Reilly Auto Parts qualifying race.
NASCAR driver Dale Earnhardt Jr. met with a small audience at Cabela's where he signed autographs for three area youths.
Chris McDaniel stopped in Tonganoxie to visit his father, Calvin McDaniel, and other relatives and friends. McDaniel, who is in the U.S. Navy, was making his way across country on his Harley-Davidson. His destination was his next assignment, San Diego.
Mark Scribner took over as the new youth pastor at West Haven Baptist Church. His wife, Jamie, planned to be involved in the church, also.
Ron Hubbard was named Tonganoxie's new postmaster.
Jerri Cooper, a cancer survivor, announced her plans to start up a group, People Helping People, to give assistance to those who have serious health problems.
Area firefighters Ken Hurla and Roger Brandt were honored for their volunteerism at the annual Basehor PRIDE meeting.
Hodgdon Powder Company planned to move its distribution center from Shawnee to a 160-acre tract of land east of Tonganoxie.
Leisa Bray opened a new shop, Rustic Impressions, at 620 E. Fourth St. The shop includes rustic furniture and decorative items.
Kimberly Rode began work as youth pastor at Sacred Heart Catholic Church.
Area preschoolers participated in a Tumbling Tots program through the recreation commission. Pictured were Halley Calovich, Darius Shockley, Sammy Overturf, Zachary Johnson, Caitlin Reed and Austin Anderson.
The county's water rescue team recovered the body of a murdered Kansas City, Kan., man whose body had been dumped in the Kansas River at De Soto.
THS student Joel Nido worked as an actor at the Renaissance Festival. Nido played the role of Puck in the festival's Enchanted Forest.
Joe Thompson, a 2001 THS graduate, would manage Basehor's new Sonic restaurant. Joe got his start at the Tonganoxie Sonic while he was in high school. His younger sister, Jenny Thompson, has worked with him at the Tonganoxie Sonic.
Local artists Phyllis Barker and Lisa Dent painted cartoon and storybook characters on the walls at the Tonganoxie City Library.
Tonganoxie firefighter Brady Mikijanis was credited with obtaining a $58,000 grant for the Tonganoxie Fire Department. The 24-year-old is a volunteer firefighter in Tonganoxie, as well as a professional firefighter in Leavenworth.
Dustin Schultz and Janelle McCoy were crowned THS homecoming king and queen.
November
Incumbent Democratic county commissioner Don Navinsky won the votes needed to retain his First District seat. Navinsky received 2,336 votes. His opponent, Leavenworth Republican J.C. Tellefson received 2,190 votes.
Hospice of Leavenworth honored Arlene Wedel, a volunteer for 14 years, for her work. Wedel was named Volunteer of the Year in November, which is National Hospice Month.
Jeff Hewlett opened Kansas Firearms Specialties at 328 Delaware.
Tonganoxie Chief of Police Ken Carpenter presented plaques to dispatcher Mike Vestal and officer Cecil Vinyard during a city council meeting. Both were honored for the years they've worked with the city.
Tonganoxie Junior High School student Lacey Sturgis collected coats and blankets to give to Project Warmth. The items will be distributed in the Kansas City area.
Kelly Vogel, owner of Crescent Moon Bakery which opened in July, said she planned to close the restaurant in mid-November.
Bill Lux, a Korean War veteran, recently received a Korean medal. Lux is pictured with the medal.
The Mayginnis Hustler 4-H members donated a picnic table to the Leavenworth County Fairgrounds. The members are pictured at the new table.
McLouth High School students rehearsed a play, "Why Darkness Seems so Light."
Tonganoxie High School students prepared for their musical production of "Oklahoma."
Bill and Mary Ward are in the midst of constructing a steel house. The retired couple purchased a kit and are building the home themselves.
Richard Reidel of the Civic Club delivered a $1,000 check from the club to the Good Shepherd Thrift Shop and Food Pantry.
Jared Jellison and Robert Carpenter returned from a two-year canoe journey. The two are writing a book about their experiences.
Builders Mark Himpel and Steve Mock, and Realtor Dan Lynch announced plans to develop a housing area for senior citizens who will purchase their homes. The area will be called Fall Creek Villas, and units will start at about $90,000.
Veterinarian Vickie Smith began construction on her new clinic at County Road 5 and Laming Road in the Urban Hess development.
Another new business in Tonganoxie is S&K Landscaping, owned by Stan and Kristin Briggs.
December
The city council debated the access to Jack Willis' 195-lot Jackson Heights subdivision, planned near Parallel and County Road 5.
Leavenworth County Undersheriff Dave Zoellner announced a team of investigators was trying to determine what happened to Randy Leach, a 17-year-old Linwood boy who disappeared more than 14 years ago.
Santa arrived at the VFW Memorial Park to help youngsters celebrate the lighting of the mayor's Christmas tree.
Leavenworth County Commissioners approved a special-use permit that would allow the Hodgdon Power Company to establish a distribution center near Tonganoxie.
Basehor Town Square, a renovated shopping area located where a grocery store burned in December 2001, was renovated and ready for tenants. Owners Dennis and Debbie Breuer, Tonganoxie, plan to have nationally owned chains in the store spaces. The Breuers also are planning a 94-acre development southwest of the shopping center.
County department heads, commissioners and state legislators met for breakfast in Leavenworth to talk about how the state's financial crisis will affect the county.
An early-morning fire damaged the home of Jerry and Tina Coleman at 810 Pleasant. Family members and pets exited safely and the family expected to be back in their house within a month.
Tonganoxie High School singers performed in the Madrigal Feast dinner theater. About 50 students performed in front of a packed house on two nights.
A new stoplight was installed on U.S. Highway 24-40 and North Star Drive, just in front of Tonganoxie High School.
The former Almeda Hotel reopened as "Amanna Ãlan," complete with Santa and a brunch and Victorian tea.
THS band students were preparing for a Dec. 28 trip to the Liberty Bowl in Memphis.
An early morning Dec. 23 blaze destroyed the rural home of Jerry Newberry. A relief fund was established at First State Bank and Trust.
Four downtown business owners, John Lenahan, Roger and Phyllis Shilling and Don Pelzl, filed a federal lawsuit alleging the city of Tonganoxie violated their civil rights by boycotting their companies.