Sunday hoops
Nearly 90 youth attend camp; free-throw champs crowned
There was plenty of basketball Sunday in the Tonganoxie High School gymnasium.
A basketball camp sponsored by the Tonganoxie High boys and girls basketball teams attracted 88 students.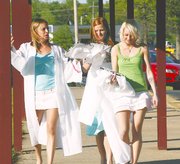 The event brought in students from kindergarten through sixth grade. The first grade had the most campers with 17, while there were 16 second-graders.
The camp coincided with the Knights of Columbus Free Throw Championship. The contest advanced seven boys and seven girls to the district level.
Students ages 10-14 were eligible to participate in the event sponsored by Sacred Heart Council #11352 in Tonganoxie.
The participants who advanced from the event at the Tonganoxie High gymnasium were: 10-year olds, Holly Demaranville (girls) and Keith Slater (boys); 11-year-olds, Rob Schlicht (boys); 12-year-olds, Chrissie Jeannin (girls) and Blaize Oelshlaeger (boys); 13-year-olds, Ashlee Lohman (girls) and Tyson Letourneau (boys). There were no contestants in the 14-year-old division.
Each contestant was allowed 15 free-throw attempts. Ties were settled by successive rounds of five free throws per contestant until a winner emerged.
The winners from Sunday's competition will compete in a district round at 1 p.m. Feb. 9 at Immaculata High School in Leavenworth.
Youth attending the basketball clinic were kindergartners Colton Cugno, Sinjan Gergick, Lauren Harrell, Charley Jo Hazelton, Asher Huseman, Gage Laster, Justin Patrick, Michael Stevens, Tressa Walker, Hunter Leihy, Haley Banks, Mitchell Brock and Sarah Ahart.
First graders attending were Austin Bristow, Alison Bryant, Emily Caenen, Jill Derzinski, Kourtni Campbell, Zeke Kissinger, Shelby Letourneau, Jordan Lesher, Brayleigh Lloyd, Leah Miller, Taylor organ, Elizabeth Patrick, Justin Salmon, Duncan Witt, Kara Banks, Megan Ebbert and Alyson Bartholomew.
Second graders participating were Leah Cugno, Tanner Hazelton, Gabby Janssen, Hannah Kemp, Bobbi Jo Kissinger, Thomas Miller, Brett Morey, Mark Murphy, Doni Perkins, Jesse Rich, Chantel Sample, Tanna Ward, Eric Taylor, Madee Walker, Kristen Papa, Ronald Myers and Seth Ahart.
Campers from the third grade were Kody Campbell, Shyanne Gergick, Austin Harkrader, Amanda Holroyd, Megan Hummelgaard, Gage Leihy, Brittani Papa, Amber Shuster, Wesley Williams, Rebekah Adcox, Ashley Henley, Jake Spencer, Hamah Jamkui, Rachel Sparks and Tyler Bartholomew.
This year's fourth graders were: Carrie Calovich, Wyatt Letourneau, Danielle Miller, Keith Slater and Holly Demaranville.
From the fifth-grade class, students attending were: Maggie Franiuk, Justin Jacobs, Adam Salisbury, Josh Salmon, Makayla Witt, Ali George, Sarah Swaim, Abby Eisman, Nick Norman and Hilary Saathoff.
Sixth graders participating Sunday were: Ryan Brammer, Chelsea Calovich, T.J. Dohle, Kavet Letourneau, Hannah Mayse, Wayne Rich, Shawn Holroyd, Matthew Brock, Blaize Oelshlaeger, Rob Schlicht, Ben Field, Chrissie Jeannin and Eric Banks.