It all began when Tonganoxie High School student Michael Stephenson looked at his friend Seth Kotowske while sitting in class and decided he should be in a band because of his long hair.
So the two formed Third Compromise, with a classmate, Alan Davis.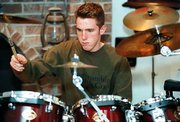 Now, it seems things might be looking up for them. Guitar player Stephenson hopes so.
"I'm hoping to get into the Lawrence music scene a little bit, but I don't know if that will happen, especially since we're so young," Stephenson said.
Percussionist Alan Davis said he and Stephenson began practicing together when they were in the school band and played in the pep band at basketball games. Davis invited Stephenson to his house to rehearse.
"He came over and we started practicing and we just never stopped practicing," Davis said.
The band usually rehearses once weekly at Davis' house, or when their schedules permit.
"We try to jam like every Sunday," Kotowske said. "We usually don't get together very often, maybe once a week."
Davis' father, Dan Davis, said he and his wife are pleased the band uses their home for their weekly practices.
"We don't mind it a bit," he said. "At least you know where your kids are."
Dan Davis said that he even enjoys some of the music the band plays.
"Every once in a while they'll walk by and tell us good job and that's about it," Alan Davis said.
Dan Davis said he's not sure what the future holds for the youngsters.
"I think they're just having fun with it," he said. "I think they're all good."
Kelly Woelk, a classmate, friend and follower of the band, said he thinks the band has a chance.
"If they catch a break, they'll definitely make it big," he said.
Their plans to pursue the band may be more difficult to uphold after this summer because Alan Davis is graduating in May, but Kotowske and Stephenson each have two years of high school to complete. Davis said he hopes to continue playing after he leaves for college.
"I certainly don't want to quit. It's fun," Alan Davis said. "It'll probably turn into a weekend thing, which it already kind of is."
Bass guitar player Kotowske said he hopes to continue performing and maybe sign a record deal someday, but is just enjoying himself presently.
"It's kind of just a fun thing right now," Kotowske said. "We're looking to do something bigger, we're just not very organized."
Woelk said he hopes to be the band's manager some day. He said he wants to be involved as much as he can because he does not have musical talent of his own.
"I follow them around as much as possible," he said. "Band manager would be my sort of thing. Anything they want from me, I try to help them out. I'm just basically the tag-along."
The band performed at the Tonganoxie Junior High School on Dec. 20 and charged a $2 cover charge at the door, hoping to make some money or at least pay for the stage they built themselves.
"We made just enough to cover our expenses," Kotowske said.
The band did not have a name prior to the junior high performance and knew that they needed one.
They decided on "Third Compromise" after "cool guys that hot girls like to hang out with except for Alan because he has a girlfriend" didn't fit on the banner for the show and Davis vetoed "the eclectic arder conspiracy." The Third Compromise became their official name because it was the third name they came up with and there are three members of the band, according to Kotowske.
"That won't be their name if they make it big," Woelk said.
Stephenson said that he enjoyed performing at the junior high school.
"That's the best we've ever done," Stephenson said. "That's the most fun I've had doing anything."
The members are hoping to perform at the "morp" dance at Tonganoxie High School, sponsored by the sophomore class, later in the year.
Bill DeWitt, social studies teacher and wrestling coach, said he asked the trio if they would be interested in playing at the dance, even though he hasn't heard their music.
"It's just by reputation. I haven't heard them play," he said. "I have a couple of the guys in class, and if they put that much work in the band as they do in school, they've got to be good. Those kids are bright. They've got to put on a heck of a show."
The band has an "eclectic" sound and plays many types of music such as pop, punk, ska, funk and jazz, as well as Christian music for local youth groups. The band usually plays music written by other artists, such as the Dave Matthews band, 311 and Bush, but band members have begun playing songs written by Stephenson.
"We've been writing our own stuff for a while," Kotowske said. "Michael's a really good songwriter."