Friends survive first marathon
Carrie (Scheller) Barth was almost finished running in the Mardi Gras Marathon on Sunday in New Orleans when she spotted her husband, David, and Matt Bond, husband of fellow runner LeAnn Bond. The husbands were cheering their spouses on to the finish line near the Louisiana Superdome.
But Barth's eyes suddenly welled up with tears. She then turned around to see where LeAnn was in the race, and LeAnn, who saw Barth's tears, also started crying.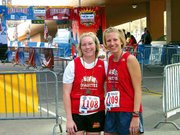 "It was so emotional," Barth said. "All of a sudden I started crying. David came up to me and asked if everything was OK. I just started crying for no reason."
Bond couldn't explain the chain reaction of tears, either, but was able to finish the race alongside her friend in their first marathon.
"Carrie was ahead of me because I didn't feel like running fast," Bond said. "She turned around, waited for me and we held hands."
The longtime friends finished in the 25-29-age division tied for 101st with a time of 5 hours, 46 minutes, 45 seconds. All participants received medals attached to Mardi Gras beads, not the traditional ribbon.
Barth, who works with Sprint, and Bond, a teacher at Tonganoxie Junior High School, were two of 5,000 runners competing in the festivities that included the marathon, marathon relay, half-marathon and 5K.
"We just used muscles we didn't know we had," Barth said. "We were pretty much sore from head to toe, but it was worth it."
Overall, Bond was happy with completing the marathon.
"It was fun," Bond said. "After Mile 21, I wasn't so sure about the fun of it, but we did it."
Bond had a large blister on her foot and at one point her shins cramped up. She also couldn't straighten her toes, but a coach was there to massage her legs along the way and Bond was back on track.
The runners had their share of pain, but the event offered some distractions.
Aid stations were available every two miles, which gave Barth and Bond something to look forward to.
The stations were themed, with one called the red dress station. Attendants men and women wore red dresses as they handed out food and drinks, including beer.
"I did see some people drink beer," Bond said. "That's the culture there."
Another station had a M.A.S.H. theme, with music from the 1960s blaring in the background, and another was a Mardi Gras party theme. Barth and Bond took advantage of the stations, although some drinks weren't the best.
"All of them had the Ultima drink," Bond said. "It was gross. It tasted like really, really bad Kool-Aid."
The runners also did their part to make the marathon enjoyable.
Barth and Bond were the only runners to paint their shirts. Bond wrote Lela, her nickname, on her shirt, along with "TJHS," and messages to her daughter and parents. Barth also wrote messages to her husband.
"We made our names really big so people would yell at us," Bond said.
The overall winners in the marathon finished a little earlier than Barth and Bond. Lara Shaw, 29, Tampa, Fla., took first with a 2:56:06 time. Gretchen Klein, 28, Ketchikan, Ark., was second (3:12:15) and Jessica Smith, 25, New Ipswich, N.H., was third (3:18:35). Christopher Toepfer, 39, Chicago, won overall on the men's side with a 2:32:09 time.
The two local runners ran with Team Diabetes, which had 85 participants at the event. Bond, who has diabetes, raised about $4,500 for the American Diabetes Association during the last few months while she trained for the marathon. Barth raised roughly $2,900, and Bond raised the third-highest amount of money among Team Diabetes members.
Now that the New Orleans experience is finished, the friends must decide weather to make marathon running a tradition.
Bond didn't really want to comment.
"No, I don't want to talk about that yet," she said. "Ask me in about a month.
"I'm not even going to exercise this week just because I can."
Other Team Diabetes members talked to Barth and Bond about competing in a marathon relay in October in Chicago, but for now, the two are going to enjoy the break.
"I think I want to try another one, but I don't think anything could top that experience," Barth said. "I just don't think it would be the same."