When Earl Parsons turns 90 next week it's likely he'll be reflecting upon his life, especially on the last decade when he became actively involved in funding projects for the Kansas 4-H Foundation, most notably at the Rock Springs 4-H Center.
"He's a great American success story" said Bill Riley, president of the Kansas 4-H Foundation since 1986. "It really is a wonderful American story of someone who has done well and taken care of his own business and managed it well."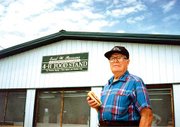 Parson's secret to his success can be summed up in three words, he said: "Management, management, management."
Clearly, Parsons, who was not born with a silver spoon in his mouth, learned this lesson firsthand.
It was a winter morning, Feb. 27, 1912, when the midwife arrived at the rural Basehor farm home where Parsons would be born.
The fourth of seven children (five boys and two girls), Parsons attended a rural school a mile northeast of where the Leavenworth County shop is now.
On the farm
After high school he continued living at home, working in his father's dairy. Several years later he began working for a horse trader west of Springdale, earning a dollar for a good day's work.
And then he got his big break.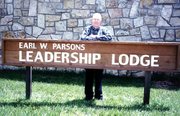 "One Sunday morning, Johnny Schwinn said, 'Earl come on down I want to talk to you.' He said, 'I want to rent you my farm.'
"I said, 'Johnny I don't have any money or anything to farm with it,'" Parsons said.
But Schwinn, Parsons said, had already arranged to open a restaurant in Leavenworth and he needed someone to run the farm, a mile north of Springdale.
Parsons, who was engaged to Agnes Corkill, Nortonville, consulted her, and the couple decided it was a good idea.
A year and a half later, just two weeks before his Feb. 14, 1937, wedding, Parsons took his fiancee to dinner at Schwinn's restaurant.
"He said Earl I want to talk to you after you get through with dinner and I said now what have I done wrong," Parsons said. "And he said Earl, I want to buy you out."
Then in need of another farm, the couple rented land west of Easton where they stayed three years, leaving when the owner sold the land. After that they operated a small farm near Jarbalo for three or four years. And then a farmer south of Easton offered to rent a 270-acre farm to Parsons, where they stayed for six years.
"I said this is the last place I'm going to rent," Parsons said. "The next time I'm going to buy a farm, and we stuck to that."
It was the autumn of 1950 when the couple bought their first farm 200 acres of Stranger Creek bottom ground, three miles east of Tonganoxie. In the spring, Parsons planted his corn crop just in time for the flood of 1951.
"It wiped me out," Parsons said. "I only raised $134 worth of crop off the place that year."
But from then on, the weather cooperated, and the Parsons, who'd signed a 33-year note for the farm, paid for the farm in 10 years.
Parsons partially retired in 1977, but continued his seed dealership and seed cleaning business for several years. He sold the farm and bought a house in Tonganoxie a few years after his wife died in 1992. Their daughter, Marilyn Kay Parsons, lives in Leavenworth.
New beginnings
After he sold the farm, Parsons, who had been involved in 4-H all his life, started thinking about donating money for Kansas 4-H projects.
"I decided that I wanted to do something while I was still alive," he said.
On the local level, he built the Earl Parsons 4-H food stand at the Leavenworth County Fairgrounds.
Parsons also called Bill Riley at the Kansas 4-H Foundation and set up a time to visit.
Eventually, he decided to finance renovation of a shower house and construction of a lodge at Rock Springs Ranch.
Parsons smiles his easy smile as he recalls the stipulations he presented to Riley: "I told him it had to be first class and that I wanted my name on it to be big enough that you didn't have to use field glasses to see it."
Since then, Parsons' initiative has helped fund the Parsons' Leadership Lodge. He was the major donor for this project, as well.
"The whole area is named for Earl," Riley said of the housing units which can sleep 100 residents.
In addition to appreciating Parsons' own generosity, Riley said the money given by Parsons inspired other individuals to donate to the projects.
Because of his involvement in 4-H, Parsons' name is well-known to 4-H members across the state.
Jill Rooney, 21, grew up near Satanta, a southwest Kansas town about 350 miles from Tonganoxie. But the name "Earl Parsons" was ractically a household term when she was a 4-H teen.
"I knew of him when I was younger as a 4-H'er, especially with his tie to Rock Springs," Rooney said.
Now a Kansas State University senior majoring in finance who plans to graduate in May, Rooney has worked on Kansas 4-H Foundation projects. Through this, she has become better acquainted with Parsons, and has seen firsthand his interaction with 4-H members.
"To me he just seems like a grandpa to the kids," Rooney said. "He's somebody you can just feel comfortable with and he's easy to talk to he's down to earth."
The children are drawn to Parsons when he attends 4-H events, Rooney said.
"They want to hear what he has to say, they're interested and they're excited to have him there," Rooney said. "When you have 4-Hers who are 10 or 11 years old, that's not necessarily what you'd expect."
Parsons said he's received great pleasure from his interactions with the 4-H foundation and the 4-H members.
Shortly after the completion of the Hilltop Housing area, Riley asked Parsons to speak to 400 4-H members who were attending the camp. Riley said his fear that the youths wouldn't show appreciation to Parsons was soon put to rest.
And Parsons, after recovering from stage fright, enjoyed making his presentation and seeing the response.
"The kids jumped up clapping," Parsons said, smiling, "I thought they would never quit clapping."
In his 80s, a time in life when some people may feel society has left them behind, Parsons, through his activity with 4-H, has remained involved and made new friends in the process.
"We got pretty well-acquainted over the years," he says of those who work with the Kansas 4-H Foundation. "I've never had any nicer group of people to work with. I've really enjoyed it they treat me better than family would."
The year to come
Lining the walls of Parsons' living room and kitchen are greeting cards, each taped neatly in rows.
"I'd rather have them out where I can see them, instead of hidden in a box," Parsons said.
But it's likely his walls won't have space to hold the 400-plus thank you cards he's recently received from Kansas 4-H'ers. The youths have been sending the cards to thank Parsons for sponsoring the 2002 Kansas 4-H calendar. Each month's page showcases prizewinning photographs from the Kansas State Fair all taken by 4-H members.
About 14,000 calendars went out to 4-H families across the state, all with a color picture of Earl Parsons on the back page.
Rooney, who helped work on the calendars, said the calendars have been popular.
"It's just amazing how many 4-H'ers have called up saying they lost their letter with his address on it and they wanted to write Earl a letter and thank him," Rooney said.
"Or, they call to say they didn't get a calendar and they wanted one. They're very excited about it."
Parsons said he doesn't have specific plans on what he will help with next.
"I wanted to live long enough to see where my money went," Parsons said. "When I decided to build the hilltop housing area, I was hoping I would live long enough to see it built, you never know, you know.
"We got it built and then the leadership lodge came up and I decided to get involved there. I could hardly wait long enough to see it built."
Riley, who said Parsons frequently visited the ranch during construction, gave him a hard hat of his own.
Parsons, who admits to being somewhat of a jokester, said: "I said well, if I come out I'll tell you if you're doing it right and if not you'll have to do it over."
Riley said he appreciated Parsons' involvement.
"We respect the fact that there are lots of people out there that could do these things and don't do them," Riley said. "He's making an impact you don't do these things without a tremendous amount of generosity. He demonstrates to other people that they can make good things happen in society if they want to do that."