David Saultz had never worn construction stilts.
But that didn't stop the Tonganoxie High School senior from strapping them on.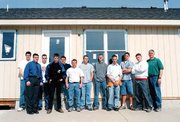 "Be sure you get the shoe straps on tight," cautioned Gary Tanking, who with his brother, Mike Tanking, and Andrew Breuer, were heading up Sheetrock installation for Steve Hughes' building trades class project. "And don't let the metal legs touch each other or you'll have trouble."
Within minutes, Saultz had mastered the art of stiltwalking and was in the center of the room smoothing Sheetrock mud over ceiling joints.
This is the fifth year that building trades classes have built a house, said Hughes, who since 1973 has taught at THS.
In looking back, Hughes said the first house proved to be a challenge.
"We probably bit off a little more than we should have for the first time," he said.
But that house sold at auction, and the program continued.
"Each year we have learned from the previous year," Hughes said. "It continues to be a learning experience and it goes a little bit smoother each year."
The house the students are building is 1,400 square feet and includes an open living, dining and kitchen area, three bedrooms and two baths.
One of the biggest challenges of building a house as a class project is time, Hughes said.
"We only have three hours a day and part of that time is clean-up," Hughes said. "Our deadline is the last day of school. What we don't have done then isn't going to get done."
But by then, the house, which is constructed on the school grounds, already has been sold as-is at auction.
By the end of the school year, the home's interior walls will have been primed, but not painted, the trim and cabinet work will be done, and the bathtubs will have been installed. The rest of the finish work, such as cabinet tops, painting and flooring, light fixtures and plumbing fixtures are left up to the owner.
Last year's house sold for $36,000, which Hughes said made a small profit. Each house has paid for itself, he added.
The benefits of the house-building project for the students, Hughes said, is that it lets them see if they would like to work in construction later on, and if they don't, at least they'll learn skills they can use when working on their own homes.
Also, he said, they learn how other classes can play into future professions.
"They get to see that there are practical uses for math and different things they are learning," Hughes said.
Hughes stresses to his students that a knowledge of math is necessary in construction.
"I even had a student one time who told me I should have been a math teacher," he said, laughing.
Jeff Dennis, a junior, worked last week covering screws with mud. He said he didn't necessarily plan a career in construction.
"But it's kind of nice to know how to do some of these things," Dennis said. "You never know when you're going to have to do some of these things."
As about a dozen classmates, professionals and his teacher worked nearby, Dennis said the most important thing he had learned in the class was how to work with others.
"You have to get along in here," Dennis said. "You learn to work as a team and get things done."
Matt Depetrie, a junior, said his father works in construction and he said he planned to work with him after graduating from high school.
And Saultz, a senior, said the class has a two-fold benefit for him.
"I plan to go to college to study to be an architectural engineer and I thought this would be a good way to learn more about building a home," Saultz said. "And besides, this is a lot better than sitting in a classroom at a desk."