Ab-sole-lutely basketball
THS

basketball team sports various styles with sneakers
Tonganoxie's Thomas Gilner had trouble staying on his feet last Wednesday against De Soto.
The senior fell once while backpedaling, then slipped and inadvertently performed the splits on another occasion.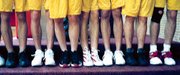 Gilner, with one shoe red and one shoe white, scored 12 points in the 73-46 win against De Soto
"I don't know what it was," Gilner said. "I felt like an idiot, but it wasn't the shoes."
Gilner would know. Tabbed the shoe guru by Tonganoxie coach David Walker, Gilner has a collection of 40 pairs of shoes to choose from, and many of his teammates borrow his size 13 shoes for games.
Against De Soto, Junior Joe Calovich sported the other mismatched pair, as Calovich borrowed one of Gilner's red shoes and Gilner took Calovich's other white sneaker.
"We wanted to do it all year," Gilner said. "But we didn't want to look stupid."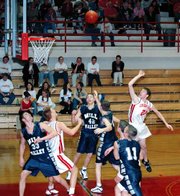 Whether the fashion statement will be made again is uncertain for Calovich and Gilner, but the team definitely has an array of footwear. Against De Soto, 11 Chieftains sported nine different pairs.
Kraig LaRosh's sneakers might have garnered more attention than Calovich and Gilner's.
LaRosh wore Converse sneakers that showcased Stars and Stripes he found on the Internet three weeks ago.
Some teams might be decked out with matching clogs, but Walker said he has no problem with his team having some diversity.
"It's not really a problem with the shoes," Walker said. "They have to buy them."
The Chieftains might want to take note of what they've been wearing lately. Tonganoxie won three straight games two against ranked teams on the road before a comeback fell short against Mill Valley on Friday. Gilner, who slaps on a different pair before each game, scored in double figures all three of the wins, including a career-high 20 pointer at Piper on Feb. 19.
So which pair of sneakers is Gilner's favorite?
"That's like asking me to pick my favorite kid," Gilner said.
For the record, Gilner has no children at this juncture, but his enjoyment for shoes has spread throughout the team.
"We just have fun," Gilner said. "But it's not just the shoes. Team chemistry is great this year."