Snow blankets early spring
Shirt-sleeves one day, snow boots the next. It must be Kansas.
And while an early spring was interrupted by Monday's snow, one area expert says he's not concerned about local plants and trees.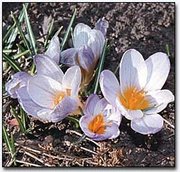 "If our fruit blossoms on fruit trees are beginning to come out, that's a concern because they won't stand a lot of freezing temperatures," said Sy Nyhart, county extension agent.
"But buds on the trees with leaves will take a surprising amount of cold. Even if they don't, they'll make new buds and it will take them a little longer to leaf out."
Daffodils, tulips and hyacinth are poking through the soil. And in some gardens, they're already several inches tall.
"Cold temperatures aren't going to hurt those," Nyhart said. "The bulb is deep in the soil, but they're designed to come up. I've seen them up and blooming in the snow. While they're up, I'm not concerned about them. They'll bloom when it's the proper time to do that."
And now that March is around the corner, Nyhart said he feels the real spring could come soon.
"We can get some cold temperatures and some snows in March, but those things don't last long," he said "We are really a day closer to spring each day."
And although Leavenworth County residents were shivering Tuesday morning, forecasts call for warming temperatures within five days.
"For the most part, I don't think we're all that out of sync," Nyhart said. "Nature, in all its wisdom, will for the most part take care of itself."