Poje power
THS

standout recognized at Neosho; Illinois, Benedictine on her short list
Sara Poje is at it again.
The former Tonganoxie High School standout helped the Chieftains to a state ranking in volleyball and a 33-4 finish in 1998, and she earned all-conference and all-state honors.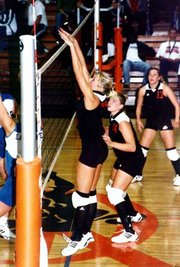 Now, the 2000 THS graduate is excelling at Neosho County Community College, where she is a sophomore.
Poje was named Kansas Jayhawk Community College Conference MVP in December after helping the Panthers to a 26-17 record and perfect 9-0 Jayhawk East record for the first time in school history. NCCC also went 50-10 in 2000, its first winning season in school history.
Poje also made first-team all-Jayhawk Conference and all-Region VI District M.
"That was my goal," Poje said about the conference MVP honor, "so going into the season it wasn't expected but I was excited."
The Panthers had four other all-conference recipients, including sophomore middle hitter Melissa Marzen from De Soto.
Freshman Heather Moore, Auburn, was the lone freshman with all-conference honors.
Poje was unsure how successful the team would be after losing so many sophomores.
"I don't know where the tradition will go now," Poje said.
Poje, captain and outside hitter, did her part to build the school's newly found success. As a freshman, the Tonganoxie native played before capacity crowds at Chanute and earned all-conference and all-region honorable mention honors. This year, Poje was the team leader in kills (284) with 6.6 per game, and had the Panthers' top serve-receive percentage at 89 percent. She also led the team in dig percentage (93 percent) and block percentage (96 percent).
The success at NCCC didn't involve a big transition, Poje said, because she was used to the game style in high school.
"My freshman, sophomore and junior years in high school were intense, so I was used to it," Poje said.
Former THS coach Chris Herron, now at Benedictine, was Poje's coach those three years. Poje experienced that same intensity at Neosho her freshman year with 2000 KJCCC Coach of the Year Leigh Davis. The team was ranked No. 13 nationally under Davis in 2000.
But the Panthers had a different coach this year in Jammie James. NCCC finished No. 16 with James after losing to Seward County in the Region VI championship match.
"It went from very intense to very laid back," Poje said.
But Poje might see that intensity again.
The sophomore is looking at four-year colleges, and Herron's Benedictine team is one of the front-runners.
"That's a big part of it," Poje said about possibly reuniting with Herron. "I have a lot of respect for him."
Former Neosho player Serena Deters, last year's KJCCC MVP, is now at Benedictine.
Poje said she'd like to stay close to home, but other schools on Poje's list include Big 10 Conference member Illinois and Northwestern State in Louisiana, both NCAA Division-I schools.
"I just put them all in a pile," she said about recruitment letters.
The Neosho sophomore expects to make a decision on a college at the end of the month.
"I just want it to be over," Poje said. "A lot of weight will be lifted off my shoulders."
Although her junior college eligibility has ended, Poje will practice with the team in the spring with exhibition matches. When school resumes Thursday, Poje will start lifting weights, training and playing in preparation for her a four-year college.
"I'll be playing in tournaments that don't count toward anything but pride," Poje said.