City could get grant for work on plant
Tonganoxie City Council members heard some good news Monday night.
The likelihood is good that Tonganoxie will receive a $400,000 grant to help finance improvements to the city's sewage treatment plant, according to Cecil Kingsley, city engineer.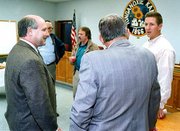 Last June, the city's bid for the grant was rejected by the Kansas Department of Health and Environment. City officials view the grant as essential to help fund nearly $2 million worth of upgrades to the plant.
Work at the plant, which could begin this fall, would bring the facility into compliance with new federal and state standards.
In addition, the plant's capacity to process waste would increase from 400,000 gallons a day to 900,000 gallons a day. That should handle growth in the city for the next 20 years.
The city has entered into an agreement for about $1.57 million in loans from the state.
Last Wednesday, city officials and representatives of Kingsley's firm attended the Kansas Interagency Advisory Committee meeting in Topeka.
That meeting, which included officials from three agencies, went well, according to Kingsley.
"What I'm reporting to you is really good news," Kingsley told council members on Monday. "I expect this project to be funded, if we do what they've asked of us."
The agencies asked that the city be ready to let bids for the project in October.
"There's a lot of work to do in designing this project and have it ready for an October bid-letting," Kingsley said.
But he said he's confident the pre-construction work can be completed on time.
The city's license for its plant expired in December, and issuance of a new license will be held until KDHE decided on the grant, according to City Administrator Shane Krull.
That decision should come in May or June, he said.