A worthy cause
Teen donates steer to raise funds for transplant
Casey Davis, 13, and her sister, Taylor Davis, 10, horse their 1,200-pound steers around as if they were puppies.
They lead them by a rope and when standing they poke the cattle's hooves until the feet are in the right position. For the girls, this is an everyday event getting the cattle ready for competition.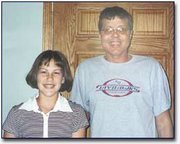 From the local level to the national, the girls have competed. Championship ribbons drape their mother's china cabinet in their home near Reno. Later this month, the girls and their parents, Gary and Donna Davis, as well as a trailer full of cattle, will head toward Sioux Falls, S.D., for a national competition.
The girls have a strong competitive spirit, fostered in part by their mother.
"When we set out at 4:30 in the morning, we don't say we're doing all this work to see if we can lose," Donna Davis said. "We're doing it to see if we can win."
Common ties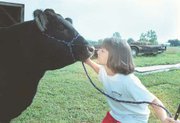 But this year, there's a twist.
Instead of selling all the steers at the end of competition, Casey plans to donate one of her steers to raise money for a friend who is on a waiting list for a double lung transplant.
Their friend, Rod Stockard, has cystic fibrosis, the same genetic disease that has affected Casey since the day she was born.
Cystic fibrosis is a condition in which the body produces an abnormally thick sticky mucus within cells lining organs, such as the lungs and pancreas. Approxi-mately 30,000 children and adults in the United States have CF.
Stockard, who lives in Princeton, Kan., south of Ottawa, is unique in that he has surpassed the expected lifespan for a person who has cystic fibrosis.
Even though the Davis family didn't meet Stockard until three years ago, it was Stockard who gave them hope when Casey was an infant.
Gary Davis, who is a truck driver, had mentioned his daughter's condition to another truck driver, one who's brother, Rod Stockard, had CF.
At that time, Stockard was in his early 30s and was healthy, running two miles every day and working full time.
When Casey was an infant, the family hired a KU graduate student, Jennifer, to help out with Casey's care. She became like a member of the family, said Donna Davis. But after graduation, they lost touch.
Then one day, about three years ago, Jennifer called.
She told them she was working as a social worker near Ottawa and she had married a man who had cystic fibrosis.
Her husband's name was Rod Stockard.
Without fear
Jennifer Stockard said Rod's health was a concern, but in part because of her work with Casey, she didn't let his cystic fibrosis stand in their way.
"We both are of the attitude that there are no guarantees in life, that there's just a greater plan that God has for each of us," Jennifer said. "I just decided that I loved him and he was the person that made me whole, so I put aside the fears about cystic fibrosis and we got married."
They married in 1997. The couple now have 2-year-old twin daughters, Olivia and Paige. Rod also has a daughter, Natalie, 18, from a previous marriage.
The next step
Until about two years ago, Rod's health was good.
Currently, he is on oxygen 24-hours-a-day, he can no longer work and he faces a daily regimen of treatments.
He is first on a waiting list at the University of North Carolina Hospital in Chapel Hill. Because there can be an increase in the number of organ donations during holiday weekends, his doctors wanted him to be in Chapel Hill the first of July. Rod's brother, Ron Stockard, drove him there last weekend. Rod will remain there until he receives a transplant, and then at least three months after the surgery.
The family is covered by health insurance. However, the hotel where the hospital has transplant patients stay while they are awaiting transplants costs $60 a day.
Family members, including Rod's brother, his mother and Jennifer and daughters, plan to take turns staying in Chapel Hill with him until the surgery.
When Casey Davis learned of the cost of lodging, meals and travel, she decided she wanted to do something to help.
An ordinary teen
That's why Casey, her sister Taylor, and their mother spent all day Saturday at Jamie Moore's auction. Just before the auction began, Casey climbed into the bed of a pickup truck and Moore handed her the microphone.
Casey, wearing a halter top and shorts, told the packed crowd that they could obtain raffle tickets from her and that proceeds would help her friend get his lung transplant. Casey told the group that she was helping him because she too, lives with cystic fibrosis.
"I'm very fortunate," Casey told the group. "Because at 13 years old I have maintained a very normal life. I play sports, I'm in 4-H I even like boys."
She asked them to donate to her campaign and said the winner of the Aug. 16 drawing would win two sides of beef from the calf she was raising.
The girls had a tent set up nearby where people could make donations. And, when the crowd shifted to another area of the field, the girls went after them.
By the end of the day, $340 had been donated, making the first week's raffle donations total $560.
"Five hundred sixty dollars will cover a week and a day or so," Casey said. "We'll take it a week at a time."
Casey said she hopes the more people know about Stockard the more they will help.
"I'm thinking this is a success story waiting to happen," Casey said.
Blessings
Donna Davis said Casey's enthusiasm has surprised her.
A year ago, Casey became very ill and $7,500 worth of medicine was needed. Insurance wouldn't pay for it. Friends suggested a fund-raiser.
"But Casey would not let us put her name in the paper and talk about it," Davis said.
Davis understood.
"We've always taught Casey there's no need to be poster child," Davis said.
But when Stockard needed help, Casey was not only willing to reveal to strangers that she has cystic fibrosis, but also to donate her $900 steer.
"If I can give $900, then maybe other people will give five dollars and enough of those will add up to make a difference," Casey said.
Rod Stockard, who is waiting in a hotel room in Chapel Hill, N.C., said he was surprised at Casey and her family's efforts.
"That was sure awful sweet of them," he said.
"There's actually no words that you can say to thank people for what they've done."
Even with the lung transplant the going will be difficult. Stockard will no longer have cystic fibrosis symptoms in his new lungs, but he will continue to have the symptoms in the rest of his body. And, he will face a first-year transplant success rate of 65 percent, as well as take a regimen of immuno-suppressant drugs for the rest of his life.
Despite the hardships, past present and future, Stockard's outlook is cheerful.
"God has blessed me dearly," he said.