Former Chieftain has Georgia Southern on her mind
At first, Sara Poje said no to one opportunity to fulfill her longtime dream playing Division I volleyball.
On May 6, the former Tonganoxie High School standout switched her reply.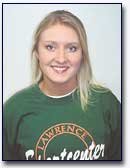 Georgia Southern, a member of the Southern Conference, contacted Poje after viewing game film of one of Poje's teammates at Neosho County Community College.
Poje initially refused the scholarship because she had never been to the campus and was also looking at Northwestern State in Louisiana, along with Benedictine.
But after a trip to Statesboro, Ga., her outlook changed.
"Once I got down there, the girls made me feel comfortable and the program is a really good program," Poje said.
The Eagles' 22-12 record last season marked their first winning season since 1994 and their first SoCon championship. It was also their first-ever NCAA tournament bid.
Georgia Southern returns nine letterwinners from that team, but Eagle coach Kerry Messersmith looks for Poje to help fill a needed role.
"We lost a lot at the outside position, but in Sara we gained a quality replacement," Messersmith said. "She is a proven junior college player that shouldn't have any problems adjusting to Division I play. She is a great athlete, definitely the best jumper I've ever coached."
Before signing with GSU, Poje was awaiting word from Benedictine, a private school, on how much overall scholarship money she would receive, while Northwestern State wanted her as a right-side hitter, a position she's never played.
NWSU offered Poje a full-ride scholarship, as did Georgia Southern. But Poje knew she didn't want to play a new position.
"That was the determining factor," she said. "It might have been tougher. That's only eight hours instead of a couple days."
Messersmith, though, was another clincher in Poje's decision. Now in her second season at Georgia Southern, Messersmith has coached much of her career in Kansas, rebuilding programs at Allen County Community College (1987-88) and Fort Scott Community College (1989-90). She then coached at Pittsburg State (1991-93) before coaching at her alma mater, Chadron State in Nebraska (1994-95). Her last stint at Arizona Western Community College marked the fourth program she's posted a winning record with after inheriting a losing record from the previous season.
"She's down to earth," Poje said. "She's a great person."
Poje, who earned the Kansas Jayhawk Community College Conference MVP award and all-region honors last season, has started training for her new team. Her regime begins with a workout similar to the U.S. Olympic teams at 5:30 a.m., and then summer jobs from 8 a.m.-5 p.m.
Players must report Aug. 6, and the season begins with the Georgia State Invitational on Aug. 30. The only opponent remotely close to Tonganoxie is Iowa State, but the Cyclones will be in the Georgia Invitational with GSU Sept. 7 in Athens, Ga.
Georgia Southern did play Kansas last season in Lawrence as part of the Jayhawk Classic.
Messersmith told Poje she would try to schedule the Jayhawks in Lawrence next season so Poje could play at home.
Regardless, Poje's parents, Robert and Cheryl Poje, have already ordered tickets for matches in Georgia.
"I don't know when they're coming, but it's done," Sara said. "It will be a surprise."