Volleyball team records perfect summer
Tonganoxie volleyball players could stand emulating their Sport 2 Sport summer league record when the high school season rolls around in September.
A handful of Chieftain volleyball players Vanessa Wordy, Carley Bennett, Mollie McCaffrey, Rebekah Mages and Laura Samuels went 10-0 in their weekly volleyball league at the Lawrence athletic facility.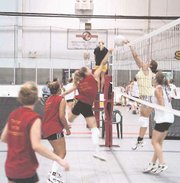 The five-week season included doubleheaders on either Thursday or Friday evenings. Teams from Lawrence, Ottawa, Baldwin, Eudora, Lansing, Gardner and Valley Falls were just a few of the schools participating.
Chieftain senior Carley Bennett said the league matches weren't as intense or competitive as high school regular season matches, but the team members did get some playing time in.
And, a win against traditionally strong Baldwin THS won each game by two was the high point of the informal league.
"It gets us used to playing together," Bennett said. "These are the girls we'll be playing with during the season."
Other Chieftains formed another Tonganoxie team. Christi Menhusen, Kelly Breuer, Jennifer Reischman, Katie and Laura Jeannin, Madison Weller, Hannah Heitzelman, Lindsay Starcher and Amanda Hart made the other Tonganoxie team. Their record was 4-4 going into their final matches.
Rules for the league differed slightly from high school. Rally scoring, which involves points being awarded on every serve, replaced the traditional point system with side outs that goes to 15. Rally scoring is to 25 in the first two games. If a third game is needed, the rally scoring goes to 15. If a serve hits the net and reaches the opposite end of the court, it's a live ball, unlike traditional rules.
Assistant coach Brandon Parker said the rally scoring would be used in the first month of the high school season on an experimental basis.
Whatever the point system, THS coach Tiffany Parker said the summer league gave her players experience across the board.
"Nobody's locked into a position," Parker said. "Some girls had to play different positions, so it's good to see their versatility."