Firefighters show off life-saving techniques
Four volunteers stepped into heavy, waterproof firefighting gear Saturday and then walked into the afternoon sun as temperatures soared toward 100 degrees.
After conferring for a few moments, they went to work, quickly dismantling a car for the 25 or so people gathered around.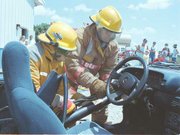 The firefighters, members of Reno Township Fire Department, demonstrated how they can rescue accident victims trapped in their vehicles. The firefighters adeptly used the Jaws of Life to peel the roof off the vehicle and then pushed up the dash board.
"Everything we do is for the safety of us and the safety of you," firefighter Bill Merkel told the crowd gathered for an open house.
The nine volunteer members of the department must know how to safely remove accident victims from their vehicles quickly and efficiently. That's because they are responsible for responding to accidents throughout their township, including an eight-mile stretch of the Kansas Turnpike, from the Douglas County line to 214th Street. Portions of U.S. Highway 24-40 and Kansas Highway 32 also run through Reno Township.
The responsibility sometimes stretches the small department's limits.
"We've got the biggest chunk of the turnpike in Leavenworth County," said Reno Fire Chief Richard Ogden. "We run more calls than anybody on the turnpike. There's nothing you can do about it."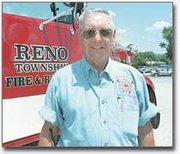 Ogden was instrumental in organizing the department six years ago. In its first year, the volunteers responded to 35 calls. So far this year, they've answered 69 calls.
"That's a dramatic increase for us," the chief said. "We're in one of the fastest growing areas of Leavenworth County."
And semi-tractor trailer accidents pose challenges.
"We're plagued by them," said Herb Stoskopf, who's volunteered with the department for about five years. "It's been a real challenge to go from vehicles to semis. It takes some doing."
And so, every Saturday, firefighters gather at the station just north of Kansas Highway 32 on 238th Street to train and ensure equipment is in working order. Part of that training has centered on vehicle extrications, similar to what firefighters illustrated Saturday afternoon during an open house.
The department must ensure it has a variety of equipment to handle accidents, as well as fight fires. Their equipment purchases are financed through a tax levy on residents of the township, along with some donations.
But Stoskopf said the department is hampered in finding corporate donors because Reno is rural township, with no business or industry.
"Everything here is raised by the people who live in the township," he said.
Firefighters do apply for state and federal grants, but competition is fierce. And so they rely on township residents.
Among items on the firefighters' wish list is a thermal imaging camera, which would allow them to detect people in burning buildings. The cost is about $15,000. And they're always in need of the basics, such as airpacks.
But tops on their list is additional volunteers.
"We're hurting bad," Ogden said. "Everybody is."
It's difficult to cover the township with only nine volunteer firefighters and an additional volunteer emergency medical technician. For example, Stoskopf works in Tonganoxie, at Sutton-Kolman Automotive.
"At different times of the day, you have different people available," Stoskopf said. "During the daytime, there's only a handful of us here."
Stoskopf is fortunate because his employer allows him to leave his job whenever necessary, no questions asked.
"Employers who do that don't get enough recognition," he said.