Here, kitty, kitty, kitty
Jennifer McCue lovingly stroked the soft fur of her tiger-striped cat, Sneakers, Saturday morning as she waited for her turn at Leavenworth County 4-H annual cat and pet show.
The 16-year-old member of Reno Bobwhites 4-H said that last year Sneakers, so named because of her four white paws, was named champion at the show, which is held two weeks before the fair kicks off in August.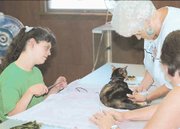 What may have tipped the scale in her favor, McCue thought, was that her cat had received all the proper vaccinations rabies, feline leukemia and distemper.
When this year's winners were announced, once again Sneakers hopped to the top and Jennifer took home a trophy and ribbon for reserve grand champion.
Broc Wood was another 4-H'er toting his favorite animal to the Leavenworth County Fairgrounds.
He held up "Squirtle," a box turtle he picked up on the road a year ago. Squirtle had a nosebleed when Broc found him and Broc nursed him back to health.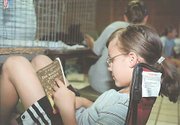 The turtle is fond of hard-boiled eggs and tomatoes, Broc said. Broc won a purple ribbon for his pet.
While waiting to see the judge, Hannah Gee held her Siamese cat, Julieann, who was a bit nervous with all the other cats around, swaddled in a blanket.
"Every time I move, she meows," Hannah said.
Hannah brought three cats to the competition.
"My first one did just fine he just laid on the table," Hannah said. "My second one was scared and this one is crabby I don't know how she'll do."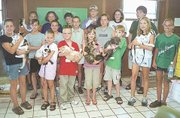 When the ribbons were handed out, all of Hannah's cats were winners: Minnie, won grand champion, Julieann won reserve grand champion and Crook won a purple ribbon.
Beth Edmonds found a simple name for her feline entry.
"It's just 'Cat,'" Beth said. After Cat visited the judges, Beth reclined near Cat's cage, reading a book. Saturday's read was C.S. Lewis' "The Magician's Nephew." Beth said she likes the book but it's not her favorite. "I like all books," she said.
Amanda Douglas' 10-month-old cat is so energetic that she named him "Harley."
"He runs through the house like a Harley," she said.
And Jenni Ciszewski was impressed with her 3-year-old cat, "Jewel," making her first visit to the pet show.
"She's really calm," Jenni said. "She's calmer here than she is at home."
Monica Gee, organizer of the cat section, said the event went well, and other than a little hissing and growling, there was no problem with the cats.
Dana Wood, who was in charge of the pet division, said entries were down in her division.
"We only had 12 entries," Wood said. "I think it was because of the heat. Next year we are going to make some changes."
Wood said that in 2003 organizers plan to hold the event in an air-conditioned building and start earlier in the morning.
In the pet division, there were six champions: Kristen Baggett, junior champion; Broc Wood, junior reserve champion; Nicholas Loreti, senior champion; Hillary Mosbacher, senior reserve champion. Container division winners were Chris Douglas and Hillary Mosbacher.
Cat division winners were: Hannah Gee, junior champion; Hannah Gee, junior reserve champion; Nicole Allen, senior champion; Jennifer McCue, senior reserve champion; decorated cat cages: Hannah Gee, junior champion; Amanda Douglas, junior reserve champion; Nicole Allen, senior champion; Jennifer McCue, senior reserve champion; educational exhibits: Hannah Gee and Natalie Loreti, junior purple ribbons; Nicole Allen, senior purple ribbon, and Jennifer McCue, senior purple ribbon.