Midnight blaze destroys house south of Tonganoxie
In the span of minutes, Sue Hawkins lost most of her life's possessions family scrapbooks, her car, furniture and clothes.
Hawkins' house five miles south of Tonganoxie was destroyed by fire early Friday.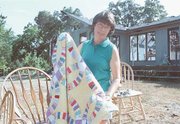 Shortly after midnight, her talking smoke alarm awoke her. It beeped and a voice said, "fire, smoke, evacuate the house." After escaping blindly through the smoke-filled house, and calling 911, Hawkins said there was nothing she could do but watch her home go up in flames.
Friday morning her flowers red salvia, yellow daylilies and purple ageratum bloomed unsinged, surrounded by shards of glass and a thick dust of ashes. Her home no longer had a roof, walls or ceilings. The shorts and shirt she wore were now the only clothes she owned. Hawkins took the devastation in stride.
"I'm here, my kids are here, my pets are OK," Hawkins said. "I'm a strong spirit."
The fire must have started, she said, from the barbecue grill which she and her fiance, David Zupancic, had used around 8 p.m.
"Around 10 o'clock I went out to turn off the hoses on the flower beds and I didn't see or smell anything," Hawkins said.
Richard Ogden, chief of the Reno Township Fire Department, said it appeared the fire started on the side of the house where the grill was stored, and spread into the garage destroying the car, and through the home's attic.
Five fire departments Tonganoxie, Stranger and Sherman townships, along with Tonganoxie city assisted the Reno fire department. About 50 firefighters assisted, with the last ones leaving at about 5:30 a.m.
"We had all the fire departments out here hauling water for us," Ogden said. "There's no water in that area."
About 16,500 gallons of water were used to extinguish the fire, Ogden said.
Friday morning, Hawkins sorted through the few belongings salvaged the night before. Among them, six dining room chairs and a few family photos. She clutched a quilt, a family heirloom, that was rescued.
"My mother's grandmother made it," Hawkins said. "It is made of pieces of dresses my mother wore when she was a little girl."
And her black cat, Sable, escaped the fire unharmed. Friday morning, Zupancic found the cat which was unharmed. After firefighters had left, it had apparently gone back inside the house and curled up in the basement.
Hawkins looked at the burned skeleton of the house she has lived in the last four years, and said she's not planning to rebuild.
"We're getting ready to be married and we're in the process of building another house," she said. "We'd planned to put this house on the market in the next few weeks this is not what I had intended to happen."