Volleyball fever extends to Hawaii
It was difficult, but Vanessa Wardy traded in hot and muggy Kansas for relaxing and much milder Honolulu earlier this month.
Wardy, a senior on the Tonganoxie High School volleyball team, competed July 9-16 in the King Kamehameha Tournament in Honolulu. Wardy played in the 12-team tournament with members of her club team from Sport 2 Sport in Lawrence.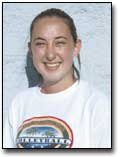 The team of Lawrence, Leavenworth and other selected area players had a decent finish in the tournament, but it wasn't as strong as they expected.
"We went there thinking it wouldn't be very hard," Wardy said.
The team went 3-3.
Wardy said teams in Hawaii weren't as tall as those from the mainland, but they were quick. The tournament matches consisted of rally scoring to 25 in a best-of-three format.
Wardy got involved with the tournament because her club team coach, Jill Stutler, found information about the event. Stutler is Eudora High School's volleyball coach.
Stutler approached her club team about the event and how much it would cost to make the tourney happen. THS coach Tiffany Parker, who is an athletics director at Sport 2 Sport, said the proposition was a no-brainer.
"Of course, all the kids said, 'Well, yes, let's go,'" Parker said.
Wardy's volleyball fever, though, didn't start with a flight to Hawaii. The Chieftain senior has devoted most of her time to the sport since January, when her Sport 2 Sport club team started playing in tournaments.
Practicing usually twice a week, the team prepared for weekend tournaments in Oklahoma, Indiana, Minnesota and in Kansas, including a massive three-day 650-team tournament this spring in the Kansas City area.
Parker has seen Wardy's confidence soar since the end of last fall's high school campaign and she's expecting more this season.
"She's just been growing by leaps and bounds," Parker said. "She's also been doing a lot of lifting and strength training with her body in shape now, and her mind is going to get there, too. I think it's going to come together this season."
A one-sport athlete at THS, volleyball is Wardy's focus. She hopes to continue her volleyball career in college. Her coach sees possibilities for her future.
"She has such potential and I don't think she realizes it," Parker said.
Despite the intense volleyball regiment Wardy's been on, she also enjoyed time to unwind on her recent trip. The team didn't have to spend all of its time in a gym, and Wardy had her share of sightseeing in Honolulu.
When the vacation started with the players setting foot in the airport, though, it had an unexpected twist. The team touched down around 3 p.m., but no other teams had arrived yet. Wardy and her fellow players were expecting to receive the traditional leis from native Hawaiians, but the welcome wagon didn't saddle up. An hour later, the other teams arrived and the Sport 2 Sport team received the proper welcome.
Once on the island, Wardy enjoyed snorkeling near Waikiki Beach, shopping and other tourism attractions, including visiting the USS Arizona at Pearl Harbor.
"It was kind of sad," Wardy said. "It took awhile to think about what really happened. You don't really realize what big of deal it is.
"But when I left I realized what it was. It was a weird feeling being there."
Wardy also took part in a luau at a Polynesian culture center. The team had a large buffet meal and watched flamethrowers and other dancers at the two-hour ceremony.
"It was interesting and exciting to watch," Wardy said.
A whole hog was also present at the event, but it was apparently for decoration, Wardy said, as no one pigged out on the prepared swine.
And, of course, a trip to Hawaii isn't complete without a trip to the beach. Wardy took in the calm of Waikiki beach.
"The atmosphere is so laid back," Wardy said. "Everyone just wears their swimsuits all day and nobody thinks they're weird for it."
To provide financial support for the trip, team members participated various fund-raising events, primarily in Lawrence. They included car washes, softball games and the organization of a walk-a-thon. Team members also acquired sponsors in Lawrence. Each player had to raise about $2,000, Wardy said.
The THS senior will get much more volleyball when the season begins in September, but she won't find the sandy beaches or luaus in northeast Kansas.
Still, she hopes to get back to Hawaii, volleyball or no volleyball.
"Yeah, I don't know when, but yeah," Wardy said.