Clinic provides campers with summer basketball
Although the Tonganoxie High School basketball season won't start for another six months, offseason activities were prevalent in the THS gymnasium last week.
Students in fourth through eighth grades participated in a basketball clinic for four days last week. THS boys coach David Walker said about 35 students participated in the event.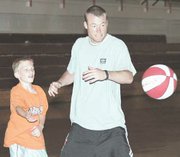 "It was primarily a fundamental camp with dribbling, passing and shooting," Walker said.
Some of the younger campers had ball-handling contests, while older students had many one-on-one drills.
Along with Walker, the staff included girls coach Randy Kraft, Sue Walker, Brandon Parker, Phil Williams, Bob Potter and Mike Kraus. Former players Andrea Korb and Mike and Thomas Gilner also assisted with the clinic.
The high school teams also conduct a one-day camp during the winter break, but that clinic is always free. The summer camp carries a $25 fee. Last week's clinic required the fee, Walker said, to cover the cost of insurance and basketballs for all participants.
On the high school level, THS boys team players will compete in summer league basketball soon. Oskaloosa, McLouth and Kansas City (Kan.) Christian players will be new to the league this year. They will be divided among teams in the league with usual league participants from Basehor and Bonner Springs also competing. Games will be played in the THS and TJHS gymnasiums.
The league will have a Tuesday-Thursday format beginning next Tuesday.