KCK

racer roars into the big time
Despite racing at about 148 mph during most of the ARCA RE/MAX BPU 200 on Saturday at Kansas Speedway, Jennifer Jo Cobb sputtered a little just once.
Coming out of a pit stop for Cobb was, well, the pits.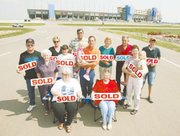 "I saw the whites of a couple of the guys' eyes in the pit crew," Cobb said.
The rough transition probably should have been expected, though. This was, after all, Cobb's first pit stop in her 11-year racing career. A veteran of late model NASCAR races at I-70 and Lakeside speedways, Cobb was used to 50-mile races, not the longer 200 race at a major speedway.
Overall, the track upgrade didn't seem to faze Cobb, who is a Kansas City, Kan., native. She stayed competitive in her first race in front of the hometown crowd of about 35,000, taking 16th after starting the race in the No. 22 position.
Racing in Kansas Speedway's first weekend of the season, the 28-year-old sat as low as 24th in the first 50 laps to as high as 15th in lap 129 with just five laps to go. Cobb settled for 16th and was pleased with her first appearance in a major race.
"I thought it was a respectable finish," Cobb said. "I think that was fine for my first time."
Cobb also helped her own cause by avoiding wrecks, unlike drivers in the delay-filled kansasspeedway.com 150 that ran before the BPU 200. Frank Kimmell won the BPU 200, but couldn't sweep the doubleheader because a wreck in the first turn of the first race knocked him out of that competition.
"All of my mistakes happened at under 20 miles per hour," Cobb said.
Kimmell, who is from Jeffersonville, Ind., won the race as part of the Advance Auto Parts team. Stuart Kirby, Bowling Green, Ky., with the CLR team, took second.
The 40-year-old Kimmell has won four of the last five ARCA races. He said being around the track helped him Saturday.
"I guess the experience of knowing lap traffic, knowing who you can trust, who you can't," Kimmell said. "It never hurts to know who you are racing and what's going on around you."
In the Winston West Series 150 race earlier in the day, Brandon Ash, Umpqua, Ore., nabbed his first series win, marking the fourth first-time winner in Kansas Speedway's short history.
"It's amazing," Ash said about his first win. "It's everything and then some of what I thought it was and I figured I'd be crying like a puppy."
Cobb wouldn't mind getting her first win at the Speedway, either. She drove with Keller Motorsports Pontiac out of St. Joseph, Mo., and hopes to continue on the larger scale.
"It takes that big sponsor between now and October or November," Cobb said.
Cobb didn't stop with the BPU 200 on Saturday, though. She headed to I-70 Speedway in Odessa, Mo., later that evening for two late model 50-mile races.
A co-host on Kansas City Metro Sports' "Inside Motorsports," Cobb hopes she can continue to climb in race levels and looks for other local drivers do the same.
"Local drivers show they have the gumption," Cobb said.