Annual festival takes center stage
Tonganoxie Days' return to the Leavenworth County Fairgrounds was met with some enthusiasm Saturday.
The event's 17th installment featuring food and arts and crafts had called Fourth Street home for nearly 10 consecutive years.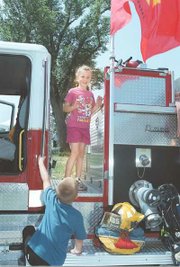 But the move back to the Leavenworth County Fairgrounds was a hit with some craft vendors who worked inside the fairgrounds' air-conditioned administration building.
"We prefer inside because we don't have to put up a tent," said woodcrafts vendor Flavio Martinez, Kansas City, Kan.
Martinez, though, did say he'd like to request more space next year.
Betty McLaughlin, also from Kansas City, Kan., said the change was good, though it would take some time to catch on.
"I like it better here because of the weather," she said. "I don't think the crowd is here, but I think it will take a couple years to get used to."
The annual barbecue contest and other craft vendors had tents outside during the overcast day. The annual train ride for kids was complemented by a youth Ferris wheel.
Connie Torneden, the event's organizer, said determining the move's success was tough because the site wasn't as consolidated.
"It was hard to tell how many were there," Torneden said. "I had some vendors say they really liked it being in the air-conditioners. Others said they liked it downtown the best.
"I don't know what we'll decide for next year. Overall I think it came out pretty good."
Other festivities included a beauty pageant that drew about 100 people, along with musical and dancing performances. A dance Saturday brought in $116 toward the VFW post home's building costs. Torneden said in past years other group donations have reached $200, so the chamber of commerce, which sponsors Tonganoxie Days, will make up the remaining $84.
vvv
For the umpteenth time, Steve Riley, 48, Lawrence, crossed the 5K finish line first, completing his early morning stretch in 17 minutes, 36 seconds.
Riley was one of 78 who ran, walked, jogged or rolled in Saturday's 15th annual Tonganoxie Days run.
Just after Riley were Tonganoxie teens Tom Powell and Nathan Bailey.
Riley, who set up a computer program at the library to keep track of scores, runs with the Sandrats group in Lawrence. The change of scenery for this year's Tonganoxie run, necessary because of road construction, worked out well, Riley said.
"I liked it there are not so many hills," Riley said. "We went uphill for the first part and downhill coming in."
One runner who brought a new challenge to this race year's was Rachel Baskerville, 15, who lives in Platte City, Mo. Baskerville rode the 5K stretch in her wheelchair, crossing the finish line at 45 minutes.
Connie Putthoff, putting in her 10th and final year as chairman of the Friends of the Library run, said as far as she knew this was the first time a person had ridden the race in a wheelchair.
"She did real well," Putthoff said.
Last year, Putthoff said, the Tonganoxie Days run generated about $600, all of which goes to the library to help with the purchase of books and computers.
vvv
There's only one time that matters at the Tonganoxie Days barbecue competition the time on the clock of the Kansas City Barbecue Society's representative.
One of the first things contestants do is set their clocks to the official barbecue clock, said
"I have the accurate KCBS clock," said Bob Snelson, KCBS representative.
Participants last weekend had a 10-minute window to bring their lettuce-cushioned presentations of chicken, ribs, pork roast and brisket to the judges.
One of those judges, Tonganoxie Mayor John Franiuk, who with his daughter, Samantha, 12, judged the entries, said making the decision was no small matter.
"I know how hard those people work," Franiuk said.
As last year, he was impressed with the quality: "It was good eats as always," Franiuk said.
Jim Gambrill, one of the organizers, said 29 entrants participated this year. That's about as many teams as the contest can accommodate, without moving to a larger location, Gambrill said.
As judges waited for the arrival of the last category, brisket, Craig and Nancy Howell and their daughter Gita Flory doted on the cooking process. Beneath the same tent, Gita's husband, Jeff, held their infant son, Drew, and visited with his aunt, Cindy Stanley, Basehor.
The Howells have been barbecuing competitively for two years. Their cooker can hold 90 slabs of ribs at one time, enough Craig Howell said, to feed 350 at dinner. The Howells, who for 12 years organized the Piper barbecue, make their own sauce and their own rub.
When Howell isn't in the outdoor kitchen he's likely to be found in Kansas City, Kan., where he runs a bail bonding business. The barbecuing takes his mind off his work, and allows him and his wife to perfect their mouth-watering barbecue technique for their seven children.
Howell said he brings simple goals to each competition the obvious goal of cooking good food, and this: "One thing I always try to do is not come in last."
vvv
Vendors set up shop Saturday at Tonganoxie Days new headquarters, the Leavenworth County Fairgrounds.
Betty McLaughlin set up her country crafts booth here for the third year in a row. Instead of being under a tent, this year her booth was under a metal roof and came with air conditioning.
"I like having it inside," she said. "I think you get a better crowd when you have it inside."
Down the aisle, Jim Gunn, Inman, and his daughter, Cindy Martin, Nickerson, encouraged visitors to try their homemade jellies.
This was their first show in Tonganoxie, Gunn said. He said that he thought the downtown was beautiful and he wondered why the event wasn't held on Fourth Street instead of at the fairgrounds.
Lowell Morrill brought his handcrafted wooden wagons from Ozawkie, along with a complete line of Watkins' products. This was Morrill's first visit to Tonganoxie Days, but he's no stranger to Tonganoxie.
"I've driven through Tonganoxie a thousand times," he said.
Outside, various stands included bake sales, food booths and a waxing booth where visitors could plunk down their money, dip their hands in a pot of 120-degree wax and make a mold of their hands.
vvv
Most owners at the Tonganoxie Days Car Show displayed their souped-up hot rods that seat two, maybe four, passengers.
One vehicle at the show Saturday in VFW Park accommodates a few more.
A 2002 Cadillac Escalade limousine was on display, along with 127 other vehicles. But the SUV-limo seats 20 and is the only one of its kind in this area. Another is in Chicago.
The Escalade is part of the six-limo fleet of VIP Limousine Service Inc., a Tonganoxie business owned by Scott and Julie Myers. The Escalade has six televisions and a laser light show.
Charlie Conrad, a part-time driver with the company, was on hand for the car show. He said he's driven the limousine for musical artists Eddie Money and 38 Special, along with sports talk-show host Jay Mohr. The former Saturday Night Live cast member who also had a role in "Jerry Maguire" is the host of ESPN's "Mohr Sports."
Other entrants at the car show were more conventional vehicles.
Louis Simmons, Leavenworth, showed his 1929 Ford Model T. The car is a four-door, a unique feature for a model that usually has two doors.
When Simmons purchased the car, the vehicle's purple frame and engine were finished, but the interior needed work.
Simmons' wife, Cindy, helped improve the interior, as she sewed the car's white seat coverings.
Antique vehicles can sometimes be difficult to locate, but Simmons found his in Atchison. The car, which has an appraised value of $30,000 to $35,000, was an instant hit with Cindy.
"My wife fell in love with it," Simmons said. "If you're married, you know what I'm talking about."
He is also working on a 1954 Chevrolet truck.
Once those projects are completed, Simmons wouldn't mind having a 1932 Ford or Chevrolet.
"Beggars can't be choosy," Simmons said.
Like Simmons, Jerry and Ruth Chaffee had to make some improvements to their car. But for the Lansing couple, the project was more than new seats.
The Chaffees purchased a kit for a 1923 bucket Ford Model T from Total Performance in Connecticut. The car's red frame came in the kit, but the Chaffees had to supply the tires and engine.
"We didn't get in a hurry," Jerry said. "We took our time."
The Chaffees' Bucket-T has a unique feature common for Ford in the 1920s an upright steering wheel column.
Ruth said the arrangement worked well.
"Your knees don't hit," she said.
Jerry drives his fourth Model T in the Lansing area and also travels to national shows with Ruth. For those trips, the couple transports the car by trailer.
"We're too old to drive too far," Ruth said.
The event recognized winners in 27 classes and had six specialty trophies. Allen Alexander, Tonganoxie, won the overall grand prize with his peach-colored 1938 Ford two-door sedan and was awarded $300.