Exhibition game honors longtime baseball coach
Pete Rose discovered that betting on his own games was a grave mistake in the major leagues.
But at an exhibition baseball game Saturday in Tonganoxie, a friendly wager was far less perilous especially when no one won the bet.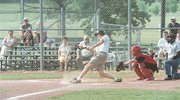 Playing in the exhibition to honor longtime baseball coach John McCaffrey, current Tonganoxie American Legion players went against players predominately from the 1980 high school league championship team.
Legion pitcher Matt Alexander bet McCaffrey All-Star Kyle Lux that Alexander wouldn't strike out. Lux, who is also a legion assistant coach, had his money on a home run off of Alexander.
"It was dead even," Alexander said. "He didn't hit a home run and I didn't strike out."
Money exchanges aside, the legion team claimed a 9-3 victory, but McCaffrey All-Star Chuck Robinson was pleased with the efforts, both personally and as a team.
"I'm 38 today, baby, I'll tell you that much," Robinson said Monday. "We had a fantastic time.
"We showed the boys a few old plays from the old men."
One highlight was when Robinson's team turned two double plays. McCaffrey's All-Stars included 11 of McCaffrey's players from 1970 through 1983.
Through a raffle and admissions, the game netted $400 for summer baseball leagues.
Along with helping an area program, the game also provided some comic relief. Ryan McCaffrey, John's son, was the only player in top shape, as he's qualified for the Boston Marathon and is an avid runner. Still, the seasoned athlete couldn't avoid a hamstring pull on the baseball field.
In the sixth inning, the McCaffrey All-Stars also had the choice of playing seven or nine innings.
The team yelled a unanimous "seven."
The game included presentation of a plaque to McCaffrey. The hanging had two picture slots, one for the 1980 team photo and the other for a current picture of the same team in the same order, which was taken on Saturday.
"I told everyone that there are people in your life outside of your parents who make a difference in your life," Robinson said, "and John McCaffrey is one of those people."
Legion organizer Mike Weyer said the event was beneficial for everyone involved.
"It was a good thing for John and our team both," Weyer said. "The kids had fun, they really did."
The local legion team, coached by Tim Mayse, is 5-5 on the season. Because the team got a late start in forming, Weyer has been scrounging to schedule games.
Luckily, he said, many local teams that have been in Tonganoxie's league for years fit Tonganoxie into their schedules.
On Saturday, though, the current legion players caught a glimpse of players in their positions 20 years ago.
"I thought it was pretty cool to see guys who played in high school back in the day," Alexander said. "As long as we made sure we won, that's all that mattered.
"It was all good, all fun and games."