Mural gives locker room facelift
Sports and art met each other in a mural at Tonganoxie High School.
A mural depicting athletes from various Chieftain teams graces the wall adjacent to the athletics director's office in the high school boys' locker room.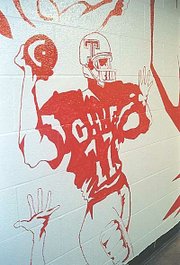 A chieftain head is the mural's focal point.
Thomas Gilner, a recent THS graduate, created the artwork last month. It took a week to plan and two weeks to construct.
Gilner, who played basketball for the Chieftains throughout his high school career, said he didn't have a specific inspiration for the mural.
"I was just trying to make it look good," Gilner said.
THS boys basketball coach David Walker approached Gilner about painting the mural.
Walker wanted some type of artwork on the blank hallway to complement a major renovation last summer. New carpet was laid and fresh paint applied to locker room at that time.
"I always wanted something on that wall because it was blank looking," Walker said. "I thought it would be a good opportunity to use his talents and put something on that wall."
Walker's original suggestion was "Chieftains" somehow displayed on the wall and various athletic equipment such as a basketball, volleyball and track shoes also in the mural.
"He really took it and ran with it," Walker said. "He far outdid my expectations by leaps and bounds."
What Gilner produced, at no charge to the district, included various athletes surrounding a Iarge chieftain logo.
The only problem with the mural, Walker said, was that it was in the locker room instead of in the public's view.
Gilner will continue to hone his talent in college. He leaves for Colorado and the Denver Art Institute on Tuesday and starts school shortly after. Gilner plans to finish his studies in three years, but after that, is unsure what he'll do in the world of art.
"It's just so vast," Gilner said. "You just can't pinpoint a certain area."
The artist may have some more opportunities in the mural department at the school. Walker hasn't ruled out Gilner creating more works, perhaps in the gymnasium.
"I think those are always possibilities," Walker said. "After administrators and some people saw how good of artist he was, there was more mention of getting more work in the gym so more people could enjoy it."