Freshman girls capture perfect 20-0 campaign
The 1972 Miami Dolphins.
The 1976 Indiana Hoosiers.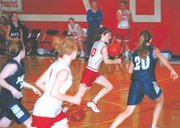 The 2002 Tonganoxie freshman girls team?
The achievement might be on different levels, but the Tonganoxie freshmen girls' team joined the ranks of the unbeaten when they defeated Mill Valley on Feb. 22.
With the win, Tonganoxie finished the season 20-0, something freshmen coach Kristel Lewis thought was possible early on.
Perry-Lecompton, W, 52-15 at De Soto, W, 66-10 Lansing, W, 47-21 Bonner Springs, W, 62-14 Basehor-Linwood, W, 54-15 Santa Fe Trail, W, 48-35 at Immaculata, W, 55-16 at Piper, W, 35-15 at Mill Valley, 59-24 at Perry, W, 44-36 at Basehor-L'wood, W, 48-12 at Lansing, W, 71-14 Basehor-Linwood, W, 56-20 Perry-Lecompton, W, 47-22 # at Santa Fe Trail, W Garner-Edgerton, W, 44-28 Piper, W, 46-19 De Soto, W, 72-11 Mill Valley, W, 67-19 Tonganoxie Tournament # score not available.
"When I first started, I knew I had a good group of girls, but I didn't know what kind of competition they had," Lewis said. "After the first few games, I knew they could do it if they stay focused. They did a really good job."
Staying focused might not have been easy for the Chieftains. The closest contest was at Perry-Lecompton where Tonganoxie won, 44-36. Some games looked more like football routs, as the Chieftains posted wins of 66-10, 71-14, 52-24 and 72-14.
"Most of the games we dominated pretty much the entire game," Lewis said. "A couple close ones could've gone either way, but we came back in the second half."
Focus was always Lewis' major concern, so she set goals other than winning for the team, such as holding the opponent to a certain point total, or registering a certain number of rebounds.
The team had nine members Laura Jeannin, Hannah Heintzelman, Madison Weller, Jessica Bogard, Heather Deaver, Courtney Schwegler, Casey Worden, Nicole Carty and Lona Dickinson.
Tonganoxie had the highest scoring output from Heintzelman and Weller, as they had 13.9 and 12.3 averages respectively. Heintzelman scored in double figures in all but one game, and was also the team's assists leader.
Deaver was the team's leading rebounder, averaging 4.4 defensive and 2.6 offensive, while Schwegler recorded the most blocks with 24 on the season. Weller also led the team in steals with 4.1.
Although Lewis coached at younger levels, she had never coached any high school level teams. A member of the University of Kansas women's basketball team in 1993 and 1994, Lewis decided coaching was what she wanted to do, although it involved some sacrifice. The freshman squad practiced at 5:45 a.m. most mornings, and Lewis lives in Lawrence. She's also manager of ticket operations at Kansas Speedway, so her commute to work always included a stop on U.S. Highway 24-40 in Tonganoxie.
"It was definitely time-consuming, but if I could do it over again, I wouldn't give it up," Lewis said. "It's the best decision I made.
"Someone is looking up at you in a positive way, where you don't always do that with a regular job. It was easy to get up in the morning and work with them."
Next year, the freshmen will compete on the junior varsity and possibly varsity levels. Lewis thought they would contribute positively to their new teams, especially after this year's performance.
"You just have to hand it to them," she said. "There were some games they could have gotten lazy and sloppy, but they never did that."