Tonganoxie Junior High School students have made it easier for new residents to decide where to send their children to school by creating a brochure advertising what TJHS has to offer.
The brochure was created by the ninth-grade media class in the first quarter as a real-life project to teach them about advertising.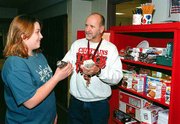 "It's a way of not only promoting our school, but it's also informative," said Bill Shaw, a TJHS language arts and communications teacher. "Our goal was, if someone is coming from Kansas City and they have a choice of where to go, we want them to go here."
Steve Woolf, junior high principal, said he hopes the brochure will help encourage area students to attend the junior high.
"If we could influence one child to come to our school, then it's worth it," he said.
The brochure has been distributed where new residents would most likely visit, such as the dentist and doctors offices and real estate offices, according to Shaw.
Brian Lindquist, a student in the media class, helped with the brochure.
"It was a lot of hard work, but it was worth it in the end," he said. "It was a good learning experience."
Kassie DeHoff, another media student, said the most challenging part of the project was learning to write concisely.
"It helped us learn our writing," she said. "We got to do a lot of it in the class. I like the writing."
Richard Erickson, USD 464 superintendent, said he would like it if the media class created a brochure for the elementary and high schools, and maybe even one for the district as a whole.
"It can be an important marketing tool for us in the future," Erickson said. "I think it's an excellent project for the media class and it certainly can be used as a way of selling USD 464."
The brochure highlights the advantages of attending TJHS. It lists the many elective classes students can take, the activities in which they can be involved and it shows that test score averages are higher than state averages in math, science, social studies and reading.
"We got to research the school," DeHoff said. "It took a while."
Steve Woolf, TJHS principal, said the media class used him as their customer and he told them what he wanted to see in the brochure.
"Part of the process was learning to ask the right questions," he said.
Shaw said he liked the project because students learn better from hands-on experiences.
"It's more meaningful when it's an actual product that goes out," he said.
The brochures were printed at Legal Printing, Tonganoxie, where a representative helped them design and develop it by giving them suggestions and ideas.
"We had some good help from people in the professional community," Woolf said.
The money for the brochures came from yearbook revenue and from the school store sales, where the publication students sell snacks and school supplies.
Woolf said that his biggest concern about the media class is that if funding is cut, then the class will be taken away. This is the first year of the class and he'd like to keep it.
"It'll be interesting to see what they do," he said. "I don't like paying taxes either, but there are some necessary evils out there to be able to drive on the roads we do and send our kids to the schools we do."
Lindquist said he thinks the class is important to offer to students who want to pursue a media career.
"People who want to go into this particular field will be a step ahead when they go to high school and college," he said.
Both DeHoff and Lindquist said that they would consider seeking a media career because of what they learned in the class.