Population hikes take toll on volunteer firefighters
Increasingly, Leavenworth County's volunteer firefighters are torn between home life and volunteer work.
And as the county continues to experience growth, the tug of war is expected to continue.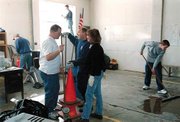 Dan Tallman, fire chief for Sherman Township, recalled an occasion when he was ready to go out for an evening with his family and his pager went off. He knew there were only three other firefighters on duty, so he went on the emergency call instead. Even for the most supportive families, this is a challenge, he said.
"They mind," Tallman said. "But it's all in the job."
Tallman, who has been fire chief for three years, belongs to a group of volunteers who, as the county grows, are weighed down by an increased work load.
"Our runs have drastically increased," Tallman said.
During the first two months of 2002, Sherman Township firefighters made 32 calls.
In 2001, the department answered 172 calls, up from 140 in 2000 and 120 in 1999.
"Before that, they ran between 80 and 100 calls,"
Tallman said. "We've definitely had an increase."
Part of that, he said, is because of a mutual aid agreement among fire departments. Whenever there is a structural fire, neighboring units are also called out, and if more assistance is needed, other fire departments also respond.
Tallman worries that the volunteers will tire of serving on the fire department, but, he said it helps inspire the existing volunteers when new ones come on board.
"What keeps us going is getting new volunteers," Tallman said. "That keeps the other guys pumped up because these guys are new and enthusiastic and they make the whole roster all of the volunteers enthusiastic we can get into the training."
A new district
If the Kansas Attorney General's office gives the OK, the Delaware Township Fire Department will form a new fire district next Monday.
Rick Huhn, fire chief for five years, said an agreement has been reached between Delaware and Big Prairie townships and the city of Lansing to coalesce into one fire district.
Currently, Huhn said, Delaware Township owns the fire department, which, based on contract, serves Lansing and the High Prairie Township. Property owners in the three areas pay different mill levies. And High Prairie, whose residents live from seven to 14 miles from the fire department, have an ISO rating of 10, which Huhn said, according to insurance companies, virtually means they have no fire department. ISO's (Insurance Service Office) ratings are used by insurance companies to help set insurance premiums.
"So we came up with the idea of forming a district," Huhn said. "Everyone could pay the same mill levy, we could generate more money, build a fire station in High Prairie and use our people, and whoever they can come up with."
The amount of the mill levy will be decided when the fire department reorganizes.
Looking for volunteers
Like Sherman Township, the Delaware Township fire department has faced increased demands in recent years. As of Monday, the volunteer firefighters had made 92 calls this year. In 2002, they made 548 calls, compared to 460 in 2000 and 380 in 1999. Included in these numbers are fire calls, vehicle accident calls and medical assists.
"Our calls have gone up tremendously," Huhn said.
But the number of volunteer firefighters has not.
"We have 24 people," Huhn said. "That's the same number we had when I started 25 years ago, we just seem to hang around that number we don't want to but it just seems to hang right there."
Burnout is a concern.
"We've been addressing it for the last two years," Huhn said.
That is why, he said, the townships and city of Lansing agreed to form one fire district.
Huhn said he hopes that eventually the Delaware station will have five paid full-time firemen on staff during weekdays. The rest of the staff, he said, would be volunteer.
"At nighttime we can still come up with 17 or 18 guys, but in the daytime we're short and we know that," Huhn said. "We've been short for the last two years."
Chuck Magaha, assistant chief for Fairmount Township, said the fire department currently has 30 firefighters.
"We've always tried to keep 30 active firefighters on our roster," said Magaha, who also is the county's emergency management director.
But there is the concern that more firefighters will be needed, he said. To open the door, the department this year invited high school students to participate in a fire cadet program through Basehor-Linwood High School. So far, five students have participated.
Magaha, too, said calls are on the rise.
"The population has increased," he said. "But the number of firefighters is just about the same," he said.
Who's going to show
Charlie Conrad, Tonganoxie fire chief, said that in 2001, the city fire department made 260 calls, up from about 240 in 2001 and about 180 in 1999. The department has 18 volunteer firefighters and is currently trying to fill a full-time paid job that opened when James Payne took a another job. Conrad, who has been chief since 1986 and a city firefighter since 1972, said he worries about the number of volunteers.
"It is a concern with all of us in the department," Conrad said. "You don't know who's going to show up. That's one of the reasons we've lobbied the city the last few years to hire a full-time firefighter that one person can make a difference."
Magaha said he understands why men and women are willing to leave their homes to volunteer as firefighters it gives them a chance to help others.
"It's the gratification just to have somebody smile and say think you," Magaha said. "Thank you for being here and thank you for protecting us. After all, none of the volunteers are in it for the money because there isn't any."