Three days after the close of the Kansas Jayhawks' home season, some unfamiliar shoes stepped onto James Naismith Court in Allen Fieldhouse.
Those shoes belonged to Tonganoxie High School basketball players.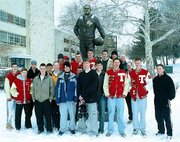 The Chieftains, who had defeated top-seeded Lansing in the opening round of Sub-state Friday, needed a place to practice Saturday morning for their Sub-state championship game against Atchison that evening.
A forensics tournament was scheduled for the high school and junior high gymnasiums Saturday.
Freshman coach Brandon Parker came up with another court the team could use. Parker, a 1996 University of Kansas graduate, worked in marketing and promotions with the athletics department until 2000, and also worked at Kansas coach Roy Williams' basketball camps.
It turned out that the forensics tournament was canceled because of snow, but the team went ahead with its practice at the fieldhouse worlds away from Phil Lobb Gymnasium in Tonganoxie.
"I think they really enjoyed it," Parker said. "For some it was their first time being in the building, much less playing basketball in there."
After a shoot-around, the team went through a light practice in the same building Wilt Chamberlain, Clyde Lovellette, Jo Jo White and Paul Pierce once played.
Practicing at the home of the Jayhawks, the nation's No. 1 basketball team, had an effect on THS sophomore Shane Howard.
"You could say it was a good experience because of all the history of Allen Fieldhouse," Howard said. "As a player, it gave me a lot of motivation and got me ready to play, basically because of the history."
The experience peaked when current Jayhawk players started strolling onto the court for practice as THS players were preparing to leave for Tonganoxie.
Howard and the rest of his teammates were familiar with one KU player, freshman Wayne Simien, who played at Leavenworth High.
Howard said it was fun to see Simien in Jayhawk garb, but it was even better when Drew Gooden and Jeff Boschee walked on the court.
"It didn't seem real," Howard said. "I always see them on television. It was hard to believe I was there with them at their practice.
"It was a good thing to see. I think our whole team was amazed to see them all."
Howard has watched a few games in Allen Fieldhouse, but said it looked smaller from the court with no one in the stands.
And for one Saturday morning in March, Howard and his teammates were aware of the Phog.
"It was just a good experience all around," Howard said. "It's something you'll never forget."