Ball teams looking to add new coaches
Tonganoxie High School baseball and softball season will be starting a new season with new coaches.
The school board hired Jared Walters as an assistant baseball coach, while the softball team was given authorization to advertise for another coach. Walters increases the baseball staff to three, joining coaches John Lee and Andy Gilner.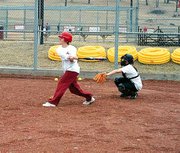 For the softball team, another coach would increase its staff to three as well, joining coach Mark Mall and assistant coach Leslie Foster.
The baseball team has 35 players, while 30 girls are on the softball team. Those numbers moved the board to increase the coaching staffs.
"We feel that justifies that second assistant," said Richard Erickson, Tonganoxie school superintendent. "Baseball's a sport where you really need base coaches," Erickson said. "We just want our practices to be safe and well-supervised as well as to provide athletes with instruction they need."