Most of the fans who lined Fourth Street to observe the 15th annual Tonganoxie St. Patrick's Day festivities wore jackets or turtleneck sweaters with their collars upturned to keep out the cool breeze.
But after the parade, everyone had a delicious opportunity to warm up at the Congregational Church, where in the kitchen steaming pans of corned beef and cabbage were ready to serve.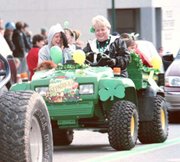 Debbie Breuer, organizer of this year's St. Patrick's Day parade and a member of PEO Chapter AT which sponsored the Irish dinner, said the group served 220 dinners.
That means, she said, 150 pounds of corned beef, four cases of cabbage, 80 pounds of potatoes and 30 pounds of carrots. The ladies started cooking at 3 p.m. Friday, and continued into the night.
"We chat and chop on Friday night and get things all started up," Breuer said.
The dinner's tradition started up with the first parade 15 years ago when Happy Helpers 4-H members cooked and served the meal, Breuer said. Then, for a few years after that, members of the Congregational Church took over. For the past seven years, the PEO chapter has run the show. And, turned a profit.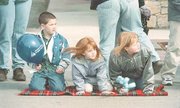 "We make about $1,000 on it," Breuer said.
The parade, too, was a success, she said, crediting John McCaffrey, who usually organizes the parade but because of illness was unable to do it this year. He asked Breuer to take it over this year.
"He said to me, 'Don't let it die,'" Breuer said.
Breuer said that parade entrants included the annual "Grand Leprechaun," who, she said, was McCaffrey, whose four grandchildren took his place in the convertible.
The Knights of Columbus led the parade with the flags, the Boy Scouts also marched, as well as the high school and junior high school bands.
The Leavenworth County Car Club brought a string of old-fashioned cars, and Starstruck Studio's dancers rode on a float. On top of that, a walking Sonic pack of French fries delighted the children, as well as a Country Mart frog. Other entries included fire trucks, horse riders, Community National Bank, Badd Jack's restaurant and state Rep. Kenny Wilk, R-Lansing.
"I was very happy," Breuer said. "I thought it went real well. There were a fair amount of entrants, the streets were crowded, and I think everyone thought it was good."