THS

wants healthier pitching
The Tonganoxie High School baseball team could have its hands full this season.
For the team to be successful, it could depend on how healthy those hands are.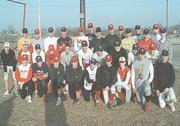 The team lost two of its pitchers to hand injuries for most of last season, but both pitchers Ryan Lowe and Mark Walters graduated.
The Chieftains, though, return most of their team this spring from the 2001 squad that went 6-16 last year and reached the regional semifinals.
This year's Chieftains will have six seniors, something coach John Lee said would be important for his team when the season starts April 1.
"The seniors are a big key," Lee said.
The six THS seniors are Matt Sanders, Pat Weyer, Matt Alexander, Matt Tate, David Saultz and Matt Gripka.
Practice started more than two weeks ago, but with spring break, the team won't have regular practices.
"That does affect us big-time," Lee said.
Lee, who enters his second season as Tonganoxie's coach, said he hopes the team will return from the break focused.
The Chieftains will have their eyes set on a schedule stacked with Kaw Valley League opponents. Jefferson West and Pleasant Ridge are the only nonconference teams that THS will face.
Within the league, Lee expects Basehor-Linwood and Santa Fe Trail to be the top teams. Santa Fe Trail was the top seed in the 4A State Tournament last spring, but fell to eventual champion and No. 8 seed Hayden in the first round. Both the Bobcats and Chargers return nearly full teams as well.
Tonganoxie won't see those teams until the Chieftains face them back-to-back April 18 and 23. The season, though, starts April 1 at Jefferson West, and Lee hopes his team will be ready for it.
"It's not too bad," Lee said about practice. "They've been working pretty hard. We're trying to get a little more focus into it."