Seniors to lead
THS

track teams
The Tonganoxie High School girls' track team won five of eight track meets last year.
With the core of its top finishers returning, it appears the Chieftains should do well this season.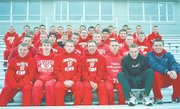 "I hope we can perform as well this year," said girls' coach Bill Shaw, who begins his 33rd year at Tonganoxie.
The Chieftains are led by senior Aimee Eisman, who was a state qualifier in the high hurdles and intermediate hurdles, and took second in the Kaw Valley League in the triple jump and both hurdle events.
Senior Erin O'Brien also made a state appearance after setting the school record in the pole vault last season. Sophomore Katie Jeannin joined the seniors in Wichita, as she competed in the 400 after taking third at regionals and second in the KVL.
Overall, Shaw said his team's success depended on its cast of seniors Eisman, O'Brien, Keri Walker, Erin Seymour and Alicia Stauch.
"Those five seniors are setting good examples in practice," Shaw said.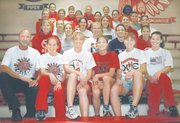 Seymour was third in the league in the 1600 last year, while Shaw looks for Walker to be in the top three in javelin this year.
The veteran coach also is looking forward to a good freshman class as the season progresses.
As for the Kaw Valley League, Mill Valley is Shaw's favorite again this year, but he hopes with just one senior graduating last year, the Chieftains will have a strong season.
"We have a really good group of hard workers," Shaw said.
Boys' track
Tonganoxie had a fourth-place state finish in the 4x800 meter relay last year.
But Jacob Hoffhines and Matt Needham were lost to graduation. The two other runners Kyle Norris and Tony Aligo have returned.
Although that team was depleted, the Chieftains return key distance runner and senior Alan Davis, while Karl Cleavinger and Dustin Schultz both qualified for Wichita in the pole vault.
THS coach Phil Williams looks for state qualifier and sophomore Joe Calovich to build on last year's state appearance in the high jump, while sophomore Shane Howard is expected to be a bright spot in the hurdles, along with Matt Madeira, possibly in the 400, and Andrew Miller in the javelin.
Andrew and his brother Tony missed qualifying for state in the javelin last year, while Tony, who graduated, qualified in the shot put.
Williams said the team isn't as strong in sprinting events, but should challenge other teams overall.
"We'll be competitive, but not blowing people away, I don't think," Williams said.
Mill Valley is on the top of Williams' list to win the league, while Santa Fe Trail and Lansing are always competitive, he said.
Both THS teams will open the season with the Lansing Invitational on Tuesday.