Girls' team blazing its own trails
Chieftains nab first, defeat
KVL

champ

MVHS

at Gardner-Edgerton
The Gardner-Edgerton Invitational on Friday had a slew of 5A schools, cold and rainy weather.
But that didn't bother the Tonganoxie girls' track team as they took first place in the Trailblazers' meet.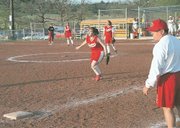 "That was our best victory of the year," said Bill Shaw, THS girls' coach. "It's probably the toughest field we've been in."
Tonganoxie took first out of nine teams, scoring 113 points.
Mill Valley, last year's Kaw Valley League champion, was third with 83 points.
Hurdle events were Tonganoxie's most successful. Jennifer Reischman, Heather Helm and Rachel Weston took first, fourth and fifth respectively in the high hurdles, while Helm and Reischman took first and second in the intermediate hurdles.
The Chieftains placed in 14 of 18 events and had two other first-place finishes in the 1,600 (Laura Jeannin) and discus (Erin O'Brien).
Erin Seymour continued to contend in the distance events, taking fourth in the 1,600 and second in the 3,200.
Along with the hurdles, THS had numerous placers in field events. Keri Walker and Kelly Breuer took third and fifth in the javelin, while Heather Deaver placed third and fifth in the discus and shot put respectively.
Weston also placed sixth in the high jump.
The Chieftains then placed in each relay, taking second in the 4x800, third in the 4x400 and fifth in the 4x100.
Tonganoxie will compete in the Piper Invitational on Thursday, while some track members will compete at Shawnee Mission Northwest on Friday.
"We're peaking at just the right time, we're hoping," Shaw said.
Boys' track
THS missed some performances because of injury, but the Chieftains still managed a third-place finish in the Gardner-Edgerton Invitational.
Jacob Walker, who suffered a concussion in a physical education class nearly two weeks ago, normally places in jumping events, but was held out