Nuts and bolts
Business owner keeps close tabs on Tonganoxie
It's business as usual.
John Lenahan, one of, if not the, oldest businessmen in Tonganoxie, sits out the afternoon in an easy chair in the back of his hardware store. From his desktop CD player waft strands of Straus' Blue Danube waltz. A longtime classical buff, Lenahan savors these quiet moments when melodies fill his store.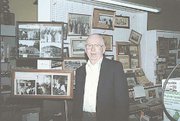 Anymore, a busy cash register-ringing day would be a rare thing at Lenahan's Hardware where it's possible that odds and ends in the store's vast stock of merchandise have dressed the shelves for 50 years.
But Lenahan, well past retirement age, doesn't complain about the dearth of business.
"This is just my playhouse," Lenahan said. "I make enough to keep it going just barely."
The regulars
It's likely as not, he said, when the front door opens, the footsteps will be those of his half-dozen regulars, as he calls them. They're local men, most of them World War II veterans like himself, who take seats before the sunny display windows where pots of lettuce and other vegetable seedlings are getting a head start on summer.
The men keep watch on downtown activities as they talk about the past and present. And occasionally, the door swings wide to welcome visitors taking a walk through time.
One recent morning, seven people came to view Lenahan's swelling collection of enlarged black and white photographs that portray Tonganoxie in its early days.
Perspective on 'Yesteryears'
One of the few local historians left from his era, Lenahan has published two books about Tonganoxie. Local history is not only his interest, it's his avocation. He has devoted years of spare time, and money, to research and write about the history of Tonganoxie.
According to Lenahan, who doesn't guarantee that his dates are exactly correct, the hardware store started in 1889 at a different Fourth Street location. Then in 1900, when Zoellner Mercantile opened at Fourth and Bury, the hardware store moved there. Carl Oakson purchased the business in the 1950s, remodeled the old movie theater, taking up the slanted flooring and projection box, and moved his hardware store there.
In 1971, Oakson sold the business to Lenahan.
When Lenahan, who in 1923 was born in Tonganoxie and lived his entire life here, says he hasn't moved far in his lifetime, he's also talking about jobs. His first paycheck came from a grocery store across the street from his present hardware store. And, as a teen-ager, he ran the projector at the movie theater. Still visible in his store are eight recessed ceiling lights, originally installed for the movie theater.
Recent changes
In recent months, Lenahan's life has changed. His wife, Jean, a woman who drew him into her flower planting projects all over town, a woman who was active in community events and a leader in many, died on Dec. 10.
The small town as he has known it, has grown. The downtown has been remodeled with new street, sidewalks and lights.
The volume of his business has changed. As he speaks, the telephone on his desk rings. He stirs to attention, picks up the receiver and says in his deep voice, "Lenahan's Hardware." But no one answers.
'It's comfortable'
He talks of his Tonganoxie childhood: "Seven kids and not much to eat," he said, and of middle years spent working dawn to dusk as a house painter and remodeler before he bought the hardware store. He recalls the constant struggle to make ends meet and making three mortgage payments each month. Things have not come easy but life has been good, he said. A glimmer of a smile lights his eyes, at times, when he recalls the past.
"All I've got left are memories," Lenahan said. "Every once in a while a beautiful memory flashes across my mind."
In his striped cardigan sweater, button-down collar and polished black shoes, Lenahan, as always, appears ready and willing to wait on the customers who may or may not enter his shop today. But he doesn't worry if they don't.
"I don't really need this job," he says with an easy smile. "But it's comfortable."