THS

golfers finish last at

KVL

meet
A familiar course didn't help Tonganoxie golfers.
Eagles Bend Golf Course, a Lawrence venue where all Tonganoxie players had played before, was the site for this year's Kaw Valley League tournament Monday.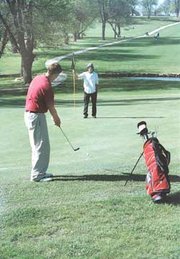 The Chieftains did shoot 10 strokes below their average, but Tonganoxie finished ninth out of nine teams.
Tonganoxie shot a 408 in its first KVL Tournament. Piper, meanwhile, won the meet with a 307.
Tonganoxie's goal this season has centered on shooting below 400. They've come close at 402, but haven't quite broken the barrier.
"I thought yesterday we had a shot," THS coach Darren Neas said Tuesday.
Piper won the meet by 13 strokes, beating Lansing's 320-stroke performance.
Santa Fe Trail was Tonganoxie's closest opponent. The Chargers shot a 355. Lansing's David Jackson won the individual title with a 72.
Mat Overbaugh, the team's No. 2 golfer, shot the team low Monday, carding a 97.
Bryan Gurss had a 101; Brett Van Dyke shot a 107.
Neas said Overbaugh has cut some strokes off his average, while Cody Owsley has made strides as a freshman.
"Cody Owsley cracked the varsity lineup," Neas said. "He's improved quite a bit this year."
Tonganoxie must now direct its thoughts toward regionals Monday. The Chieftains head to Atchison's Bellevue Country Club for the regional. THS shot a 411 on the course April 23.
"It's not extremely difficult," Neas said. "But it's one of those tight courses. You've got to hit it straight."
The Chieftain coach said the Atchison regional was probably one of the toughest fields in the state. Piper, Lansing, Atchison and Bishop-Ward are some of the tournament's better teams.
This time, Neas hopes familiarity will help his team shoot below its goal.
"Most of my guys like the course and have played pretty well on it," Neas said.
Team scores
1. Piper 307; 2. Lansing 320; 3. De Soto 332; 4. Perry-Lecompton 342; 5. Basehor-Linwood 344; 6. Immaculata 347; 7. Mill Valley 351; 8. Santa Fe Trail 355; 9. Tonganoxie 408.