Tonganoxie track teams knocking on records' door
As the track season nears its conclusion, one Tonganoxie track member has opened up the record books, while others also hope to make their marks.
Sophomore Heather Helm broke the 300-meter hurdle record with a time of 49.26 seconds Thursday at the Piper Invitational. She shattered Lenay Saathoff's 1989 time of 49.9.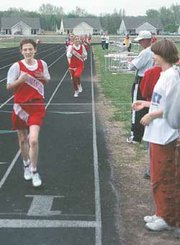 Senior Erin O'Brien already has the girls' pole vault record of 8-6 she set last year. At the Tonganoxie Invitational she cleared 8-3.
Senior Dustin Schultz, meanwhile, continues to hit 13-0 on the boys' side. Schultz nearly cleared 13-6 on April 30 in Tonganoxie and Thursday at the Shawnee Mission North Invitational. The mark would tie Eric Cole's record that was set in 1989. Schultz also became the first Chieftain to medal at the Shawnee Mission North meet. Schultz took first at Tonganoxie with the same distance.
Other team members continue to put up first-place finishes.
Jennifer Reischman won gold in Piper and Tonganoxie with times of 16.91 and 17.04 respectively. Heather Helm and Rachel Weston took second and third in Tonganoxie, then switched roles in Piper.
Tonganoxie also had first-place finishes in Piper from O'Brien in the discus (105-4) and pole vault (7-6), Helm in the 300 hurdles and Seymour in the 3,200-meter run (13:19.13). Seymour also grabbed silver in the 1,500 meters. Elizabeth Smith took third in that event, while Brooke Grey was fifth.
The girls team won yet another team title at Piper, but by just two points. Tonganoxie scored 144; Kansas City, Mo., St. Pius X tallied 142.
THS has now won every meet but one the Cardinal Relays in Eudora on April 12.
"I felt really good about the way we performed there," Shaw said about the Piper Invitational.
Tonganoxie sent its 4x800 relay team to Shawnee Mission North. The team of Katie Jeannin, Laura Jeannin, Madison Weller and Keri Walker took sixth there. The team's 10:19 time was its season-best.
The Chieftains also won their home meet April 30, but by a much larger margin. Tonganoxie scored 220, while Lansing tallied 132 and St. Pius X 131.
The boys also came through in commanding fashion at their home meet. Tonganoxie scored 257, while Lansing scored 101. Basehor-Linwood scored 97 for third place. The Piper meet was much the same, as Tonganoxie hit the 190-point total. Basehor-Linwood took second with 118 and St. Pius X was third with 113.
In its home meet, Tonganoxie had the top-three places in the high jump (Joe Calovich, Shane Howard and Sam Mitchell) and top-four places in the triple jump (Jacob Walker, Calovich, Billy Baska and Nathan Bailey). The boys had gold medallists in the 4x800, the high hurdles (Howard), the 800 (Norris), the 1,600 (Kyle Norris), the intermediate hurdles (Howard) and the 3,200 run (Alan Davis). The 4x400 relay team also took home gold.
While most of the team competed at Piper, seven Chieftains competed at Shawnee Mission North. Aside from Schultz, though, only Jacob Walker placed. He took sixth in the triple jump with a leap of 41-661/2.
Boys' coach Phil Williams anticipated that his team would be competitive this season, but was unsure how many team titles they would have. THS has won three so far, and could win what's expected to be a tight Kaw Valley League Meet on Thursday at Santa Fe Trail.
"I think they have exceeded expectations so far," Williams said.
The girls team should be the league favorite with its record so far. Shaw said his team has discussed it.
"I think our goal is to win that league championship," Shaw said. "We've talked about that. It's within our grasp."
Mill Valley and Perry-Lecompton also are contenders for the league title. The Jaguars won the conference meet last season.