For the first time this season, every Tonganoxie High School boys track member ran the 400.
And they ran it together.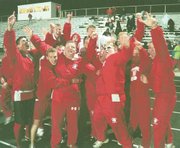 Moments after learning they had won their first Kaw Valley League title since 1997 on Thursday, team members shuffled in a red herd around the Santa Fe Trail track for a victory lap.
Tonganoxie won the league meet with 110 points, while Mill Valley placed second with 97.
Perry-Lecompton and Lansing tied for third at 91.
Chieftain coach Phil Williams said it was great to win the title after falling just short the last two years.
"A lot of things have to go right to win it," Williams said. "When you talk about 18 events, a lot of things can happen."
The Chieftains won just two events the pole vault (Dustin Schultz) and the 4x800 relay but THS turned in a strong enough overall effort for the team title.
Multiple placers in some events keyed Tonganoxie's win.
Along with Schultz's 12-0 successful attempt and gold medal in the pole vault, Mark O'Brien took second with an 11-6 vault.
Jumpers didn't score as high in the long jump, but still placed in both the long and triple jumps. Billy Baska took third with a 19 foot-9 3/4 inch jump, while Jacob Walker took fifth at 19-5 1/2. In the triple jump, Walker took second (19-9 3/4), Joe Calovich fourth (39-8) and Baska sixth (38-10). Calovich also took fifth in the high jump with a 6-0 jump.
Andrew Miller also placed in a field event, taking third in the javelin with a 157-4 throw. Justin Palmer took sixth with a 141-3 throw.
The Chieftains again found success in distance events. THS had second-place finishes in the 800, 1,600 and 3,200. Kyle Norris won silver in the 800 (2:02.2) and 1,600 (4:41.6), while Alan Davis took second in the 3,200 (10:22.8). Nathan Bailey (2:09.7) and Tony Aligo (2:10.4) took fourth and fifth respectively in the 800, while Bailey also took fourth in the 3,200 with a 10:53 time. Tommy Powell also took sixth in the 1,600 (4:58.7). Tonganoxie's Matt Madeira also placed fourth in the 400 with 52.6 time.
Shane Howard was Tonganoxie's top hurdler, taking fourth in the high hurdles (16.3); Calovich placed sixth (16.9).
THS hopes to win another team title this time at home Friday in a 4A regional.
The last step before state will start at 3 p.m. Friday in Tonganoxie. For the third year in a row, the Chieftains will host a 4A regional. The 16-team regional consists of Atchison, Maur Hill, Baldwin, Basehor-Linwood, De Soto, Eudora, Hiawatha, Holton, Bishop Ward, Piper, Lansing, Jefferson West, Mill Valley, Spring Hill and Tonganoxie.
The top three finishers in each event will advance to the State Track and Field Championships on May 24-25 at Cessna Stadium in Wichita. The top two fourth-place finishers among four regionals also earn wild-card berths to state.
Girls track
The Chieftains did pretty much everything they could to clinch the title, but Mill Valley proved to be too tough in some of Tonganoxie's weaker events.
The Jaguars won their second consecutive league meet, scoring 147 points, while the Chieftains took second with 113. Mill Valley has now won two titles in two years, as the district expanded from De Soto in 2000.
Tonganoxie was nearly 50 points away from its first league title since 1990. The girls, though, have now placed second in four of the last six KVL meets.
"We really scored where we thought we were going to," THS coach Bill Shaw said. "Mill Valley was really strong in jumps and sprints.
"Those are our two weaker areas. There were seven other teams in the meet, but no one could cut them."
Tonganoxie had five first-place finishes, but still fell short in the team standings.
Katie Jeannin won gold in the 400 (1:03.2) and 800 (2:30.1), a feat Shaw said was phenomenal. Just one event separated the two races.
"She's the only kid I've ever asked in 30 years of track to double like that. She's the only one I'd give a thought to doing it.
"It goes to show she's got that rare combination of ability, mental toughness and heart."
Heather Helm, meanwhile, led the Chieftains in one of their stronger events the hurdles. Helm broke the school record she set May 2 at Piper in the intermediate hurdles. Her time in Piper was 49.26; her first-place time at Santa Fe Trail was 48.6.
Erin O'Brien tied her school record and won league in the pole vault with an 8-6 effort, while Kelly Breuer took third with a 7-6 height. Breuer started competing in the pole vault just three weeks ago. O'Brien also took fifth in the discus (102-2), while Breuer also took sixth in the javelin. Tonganoxie's 4x800 relay took home the other first-place medal.
The hurdles were again a point builder for the Chieftains. Heather Deaver took second in the high hurdles (17.1), while Rachel Weston took fourth (17.2) and Helm placed sixth (18.0). Jennifer Reischman, who competed with a head cold, took third in the intermediate hurdles (51.9) and Rachel Weston was fourth (52.2).
Laura Jeannin took third in both the 800 (2:34.7) and the 1,600 (5:48.4), while Erin Seymour, after being shut out in the 1,600, came back for a fourth-place finish in the 3,200 (12:53.4).
The 4x400 relay team took second and the 4x100 team placed sixth in the league meet.
Tonganoxie also earned points from Weston in the high jump as the freshman made 4-8 in the high jump for third place.
THS will once again face Mill Valley on Friday, this time at a regional in Tonganoxie with 13 other girls teams.
"We're really looking forward to competing really well at the regional meet and hopefully we send quite a few kids to State," Shaw said.
Regionals will be an expanded KVL meet. All nine league teams will join six other teams Friday in Tonganoxie.
Only two participants from each team can compete per event at regionals.
"For us to score well, someone's going to have to cut Mill Valley in the sprints and the jumps," Shaw said.