Jim Gambrill has been building toys since he was a child.
"I had few toys," Gambrill said. "We weren't the richest people around. It seems like kids that age have more fun with boxes and junk."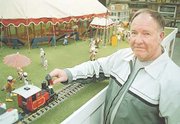 Some of his creations landed him in hot water.
"My dad died when I was nine and Mom always worked," Gambrill said, recalling a day when he was left to his own devices. "I took six or seven curtain rods, wired them together and made me a pair of skis. I caught heck when Mom came home."
Today, Gambrill, who owns B&J Country Mart, is still playing around with toys. He collects antique toys, and most recently installed a miniature circus in a barn near his home.
It is a circus that he wants to share, Gambrill said.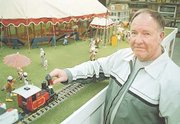 "I think it needs to be seen," he said. "A lot of people have stuff sitting around. I think that these things need to be seen why hide it it's history."
Teachers and others who want to schedule small-group visits to see the circus are welcome to contact Gambrill at the grocery store, he said.
Gambrill, who purchased the circus at an auction last year, said he thinks it was made prior to the 1930s.
The set includes seven tents. The largest tent, or the "big top," as he calls it, is eight feet long and four feet wide.
To display the tents, dolls and circus animals, Gambrill spent the winter months constructing a four-foot-tall rectangular platform that measures 22-feet by 17 feet.
Then the work, or the fun, began setting up the circus. Gambrill started with the canvas tents, which are smaller than real tents, but just as authentic.
"They have real ropes that run down to tent stakes," Gambrill said. "I drilled them into the platform. You set the tents just like you do a real tent."
The tents came with electrical lighting, which Gambrill set up so the wires run beneath the platform.
Included with the set were 45 Schoenhut dolls ranging in height from from 1 1/2 inches to 4 inches. When the wooden dolls are moved their heads, legs and arms legs move.
Gambrill said it was the toys that helped him date the circus. Through Internet research, he learned Schoenhut was a Philadelphia toy company that closed in 1937.
The little dolls are set up in vignettes a family strolling beside a man who is selling cotton candy; circus cooks preparing a meal on a woodburning stove; a helper feeding the animals in the circus wagons; and of course the circus people and animals on parade.
Gambrill, who has collected circus toys and dolls for about 15 years, learned about the circus from George Warren, of Warren Auction Service.
"George had said, 'I've got something neat for you to help me set up,'" Gambrill recalled.
That was all the encouragement he needed. By the time the auction began, Gambrill was determined to buy the circus.
After all, it goes with the rest of his collection which includes a Ferris wheel that children can ride in and a twister ride, both purchased at auctions.
Now that he has completed work on the circus, Gambrill has turned his attention to his backyard where he's putting in a golf green. And not far from that there is last summer's project a 12-foot-tall water wheel that pushes 29 gallons a minute. This year's plans include adding an old-fashioned wooden water tower to the skyline.
"I'm like my brother," Gambrill said. "I just love to build things, I don't know why, I just do."
It's likely the building will continue. Gambrill hopes to eventually purchase a miniature train that children can ride in.
"I've got a lot of plans," Gambrill said, smiling, "If I can live long enough."