Chieftains send 17 to State
Schultz captures pole vault;
THS

qualifies 10 boys
He's back.
After missing the state meet the last two years, senior Dustin Schultz will return to Wichita in the pole vault.
Schultz cleared 13-0 for the first-place finish at regionals last Friday in Tonganoxie. And now, he's headed to Wichita for the 4A pole vault event that starts at 8:30 a.m. Friday.
Schultz tried to break the school record height of 13-6, but couldn't. Instead, the senior settled for a regional win.
To break the school record and perform well in Wichita, Schultz said the vault must be flawless.
"It's gotta be a perfect jump," he said.
Schultz is just happy he's competing. His sophomore season, Schultz bruised a lung and had probable hairline fractures in his ribs during a practice attempt the week before regionals. As Schultz started to swing up at the pit, the pole broke. He held on to one piece and landed on another.
"It sounded like a cannon going off," Schultz said. "Whenever I hit the mat, it felt like it stuck me. I didn't know what was going on."
Unable to breath after the incident, Schultz began to cough up blood. The injury put him out of commission. Hoping to come back from the injury at last year's regionals, he vaulted below his normal height and lost to four seniors.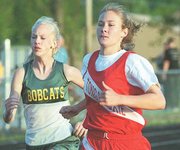 Schultz will vault in the state's toughest class. His height would put him at roughly fourth or fifth in classes 5A, while Schultz's height is in about the top three or four in the three smaller classes.
Chieftain junior Mark O'Brien also qualified for state with a 12-0 jump. O'Brien has made a jump in height lately in the event.
"It's just kind of coming together," O'Brien said.
Along with Schultz, the Chieftains send their 4x800 team as their other regional gold medallist. Kyle Norris, Tony Aligo, Alan Davis and Nathan Bailey took first with a time of 8 minutes, 30.5 seconds. The Chieftains are about third in state qualifying times. Tonganoxie coach Phil Williams said it could be tough to finish that high at state. Baldwin, for instance, ran without top runner Matt Noonan so he could be more rested for other events. Williams expects teams to stack their relays in Wichita.
Jumping events were Tonganoxie's strongest, sending qualifiers in each event.
"That's a real unique feat," Williams said.
Joe Calovich and Shane Howard tied for third in the high jump at 6-0, while Jacob Walker placed second (40-5) and Calovich fourth (39-4 1/2) in the triple jump. Walker also placed second in the long jump with a 20-4 3/4 leap.
Williams said the team had its share of surprises and disappointments. Matt Madeira was a pleasant surprise in the 400, taking fourth with a 52.8 time. Howard's high jump berth was another pleasant surprise. The sophomore had a personal best in the hurdles, but couldn't nab a qualifying spot. Junior Tommy Powell also missed a state trip in the 3,200, but did run his personal best.
Fellow senior Alan Davis, who competed at the Kansas Relays, missed out on the 3,200 as well, but will make a state appearance in the 4x800.
"I thought we might take seven or eight, but we take 10 boys," Williams said.
Baldwin, the defending 4A state champions, took first with 106 points. Lansing was second (81) and Tonganoxie tied with Mill Valley for third at 64.
"I was real proud of our kids," Williams said. "I was pleased with meet overall."