Major record breakers
Girls 4x800 relay team zooms past 1990 mark
Tonganoxie girls' coach Bill Shaw appearance should have a substantial change thanks to Saturday's 4x800 relay at the State Track and Field Championships at Cessna Stadium in Wichita.
According to sophomore Heather Helm, Shaw agreed to shave his beard if one relay team or individual placed seventh or higher.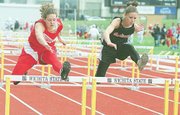 If another Chieftain placed, he would shave his head.
The 4x800 team of Madison Weller, Laura Jeannin, Katie Jeannin and Helm not only placed sixth with a time of 9:59.93, it shattered the school record by 11 seconds. The previous record was set in 1990 (10:10.6) by Janet Magner, Nikki Thomas, Danielle Boatwright and Shawna New.
Throw in Jennifer Reischman's seventh-place finish in the high hurdles, and Shaw has some shaving to do.
The longtime Chieftain coach said he'd follow through with the wager.
"I've got more hair on my beard than my head, so it doesn't matter," Shaw said.
All four relay members ran their fastest splits of the season on their way to medals. The team had discussed breaking the 10-minute mark throughout the year.
Helm said she was confident the relay team could follow through at state.
"I wanted to do well for the team," Helm said. "I knew we could medal."
The sophomore transfer from McLouth used Saturday's success to wash out a bad hurdle taste at regionals a week before. Helm was one hurdle away from placing in the 300 hurdles, but she tripped on the last one and couldn't recover.
Katie Jeannin took eighth in the 800 later in the day, and anchored the 4x800's record-breaking run. Running another 800 meters didn't phase her much.
"That didn't bug me at all," Jeannin said.
Finishing up 1,600 meters on the day, though, became a chore.
"The last 100 killed me," she said.
Tonganoxie tied for 37th as a team with three points, while Pratt won the 4A title with 62 points. Independence took second with 44 points, and El Dorado and Fort Scott tied for third with 29 each.
Senior Erin Seymour finished her high school career with a 16th place finish in the 3,200. Her time was 13:07.91. Laura Jeannin had a 14th-place finish in the1,600 with a 5:51.01 time.
Cold weather and rain spurts clouded Friday's events. A massive downpour in the evening coupled with lightning forced a few running events for classes 3A, 2A and 1A to be postponed until Saturday.
Those events ran in their scheduled two preliminary heats, but instead of finals, runners placed according to heat times.
Tonganoxie's 4A competition wasn't affected by the change.
On Saturday, clear skies greeted the meet, and most Chieftain athletes competed with the better conditions that day.
"We had some outstanding performances," Shaw said. "I was real pleased with their effort. I thought they were satisfied as well."