McLouth's Edmonds captures 800 again
McLouth junior Courtney Edmonds thought she'd experiment with the 1,600 this track season.
The dabbling brought her a third-place finish in the event at the State Track and Field Championships on Saturday in Wichita. Her 5:20.70 time was a personal best.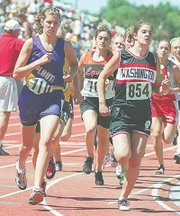 Later in the day, she successfully ran "her" race the 800, taking gold for the second straight year at the 2A level with a 2:20.52 time.
"I was really shooting for the 800," Edmonds said.
But distance running isn't new to the Bulldog junior. She took fifth at the state cross country meet in Wamego last fall.
Growing up in McLouth, Edmonds said it's always been great to gain support from local residents.
"I've lived here ever since I was born," she said. "I've always had people come up to me giving me praise.
"God is what helps me. I couldn't do it by myself."
Next year, Edmonds could snag another medal, as she's pondered running the 400 next spring.
Overall, the McLouth girls tied for ninth with Moundridge and Syracuse at 20 points, while the boys scored five points. Edmonds' performances fueled the Bulldogs' output, along with Kortney Smith's fourth-place effort in the long jump. Smith had a 16-2 1/4 jump.
The boys' 4x800 relay team took fifth and broke its own school record set the week before at a 2A regional in Onaga.
At regionals, the Bulldogs (Clayton Garrow, Brant Watson, Matt Scarlet and Mark Smelser) set a school record with an 8:37 time. At Wichita, the relay team had an 8:34.35 time.
Smelser also placed sixth in the 3,200 with a time of 10:23.23.