It's the spirit of a garden that's important.
Just ask Fred Leimkuhler, a Tonganoxie man who for decades has worked on developing new strains of iris, peonies and oak trees.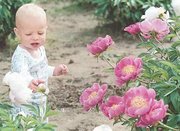 Leimkuhler, 81, lives at Quaker View Farm, where rolling hills take a gradual dip toward the back of his property stretching to sandstone cliffs that tower over Stranger Creek.
It is a breezy late spring afternoon. Mourning doves coo as a gentle wind whistles through tops of tall pines. The air carries the sweet heavy smell of spring lilac blooms and the damp-cellar scent of impending rain.
Leimkuhler takes a respite from hoeing his flower bed. Dressed in his usual denim overalls, plaid flannel shirt and baseball cap, he sits at a bench in view of his 100-plus peony plants. The blooms range from whites to yellow to pinks and iridescent reds. Some are varieties he has developed. He pulls a weathered sheet of paper from his back pocket and uses it to refer to names of various plants.
It's an interesting hobby, Leimkuhler said, but it's a hobby that he strives to take lightly. He recalls when he was helping a friend photograph and record the family tree of each plant.
"I was sitting here at this bench one night and I realized I had lost the spirit of gardening," Leimkuhler said. "I was so tied up in what this one was or what that one was and I realized you can just lose the spirit of the thing."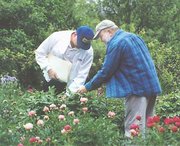 Busy place
Although he lives alone now, with his wife, Martha, in a care home in the city, Leimkuhler is seldom lonely at Quaker View Farm. One of their daughters, Lynn Paul, and her family live next door. Visitors, including members of the Kansas City Heartland Peony Society who recently toured his garden, are frequent.
Friday afternoon, neighbor Jody Bontrager stopped by on a walk with her children, Alec and Wes. The youngsters scampered amid the rows of peonies, sniffing the blossoms and romping with Leimkuhler's dogs.
Earthy connection
Gardening is a natural outlet for humans, Leimkuhler said.
"It is basic to all of us," he said.
And, he said, gardening doesn't have to be done on a large scale such as his.
"I like what I call a postage-stamp gardens," he said. "Plant it small and let it grow. In the spring of the year we see all those plants out there, we take them all home and by mid-summer we get tired of them. It's easy for gardens to become a burden and they shouldn't be that."
Even the implements used in gardening are symbolic, he said.
"Henry David Thoreau wrote an article about the garden hoe," Leimkuh-ler said. "He said the garden hoe is the thing that connects us with the soil it's the connecting rod he just loved to go out to hoe his beans. There is something very basic about gardening."
Time for blooms
Peony producers have an ample supply of patience. New plants take five years from seedlings to bloom. Leimkuhler gathers pollen from the male flowers, allows it to dry and then brushes it on the female flowers, trying to pollinate them before the bees do. Later, he harvests the seeds, which will be planted the following spring.
The female plant, termed the "pod parent," usually determines the new plants' characteristics.
"I would say 95 percent of the offspring are going to look like the pod parent," Leimkuhler said. "Maybe 3 percent are going to resemble the male pollen."
He points to a long row of plants.
"This whole row are seedlings," Leimkuhler said. "I should take them out. This is a problem with a breeder, he doesn't want to throw anything away."
But the problem with having an overabundance of peony plants is less now than when he bred iris.
"I started with iris," Leimkuhler said. "But they produce so many seeds that they'll just overwhelm you."
Everlasting spirit
Adhering to the true spirit of gardening, each Memorial Day weekend, Leimkuhler shares his flowers, placing them on the graves of family and friends.
In fact, it is from cemeteries that Leimkuhler has harvested seeds from plants.
"They call it plant rustling," Leimkuhler said, smiling.
He pointed to a large white flower, about eight inches across with pink-tipped white petals. This is one of the oldest varieties that is often seen in cemeteries, he said.
Leimkuhler likes the peonies, not only for their colors and generous blooms, but because they bloom at Memorial Day. To his knowledge, peonies can live for a century or more.
"They are everlasting, if ever a flower had that potential," he said.